Holly Newman
Holly Newman is a pseudonym for Holly Thompson. She lives in Florida seven miles from the Gulf Coast with Ken and their six cats. Holly decided to be a writer when she was in the fifth grade and filled notebooks with stories—until a mean-spirited high school teacher told her she had no talent for writing. Crushed, for several years she stopped writing, but the writing bug didn't go away. Her first book won first place in the University of Texas at Dallas fiction writing competition and was first runner-up for the Rita award from Romance Writers of America.
Holly's interest in the Regency period came while in high school and she volunteered to re-shelve returned books at the community library. Every week there were Georgette Heyer novels to be shelved. Curious, she checked one out and became immersed in the world of the regency.
Fast forward ten years. When attending Science Fiction Conventions she met people who read science fiction; but also enjoyed the works of Jane Austen and Georgette Heyer, just as she did. They liked these books so much that they wore regency costumes at the science fiction convention. They even had regency era dancing on the convention program. These Science Fiction readers and writers knew a lot about the regency era. Intrigued, Holly did research on the era and quickly went from being a casual regency reader to a regency history buff. After that, with encouragement from science fiction authors, it was just a small step to writing regencies.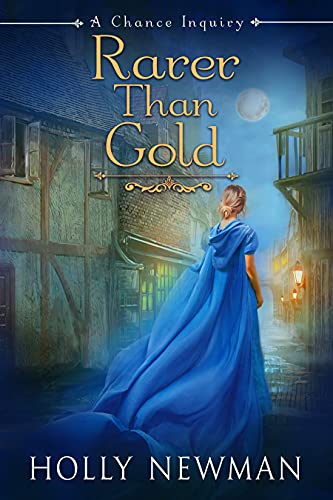 When newly-weds Sir James and Lady Cecilia Branstoke come to the aid of a new-made widow, somethings don't add up about the death of her young lord husband. Worse, a man who won't state his purpose, but is obviously military, wants a carte blanche to search the dead man's library! The sheer effrontery!
Their search for answers takes the Branstokes and the widow to the white cliffs of Dover and a search for answers from Folkstone to Dover. Is this a murder, or a ruse? And if a ruse, Why?
More info →