Browse by Genre
Featured Books
Grieving from the death of his wife, Lord Colin Campbell listens to the cries of his newborn son whilst penning a missive to the king. With no marriage prospects, Colin petitions his majesty for help in finding a stepmother. Never again will he fall in love—the death of a woman brings more pain than losing a whole contingent of men on the battlefield.
Feisty, quick tongued and smart, Margaret Robinson is delighted when her father receives a messenger from the king…until she discovers what news he brings. In a sennight, she will wed the notorious Black Knight—her life is about to end.
Tension builds during the wedding and deteriorates from there…until an accident draws them together. Just when their love begins to blossom, a dire request arrives from the Pope. Colin must join the Crusades at once.
Their fragile love is forced to withstand the seductions of hell—Margaret tempted by a scoundrel laird—Colin courted by Satan himself. Aye, the war for Christendom could very well ruin their dreams forever.
More info →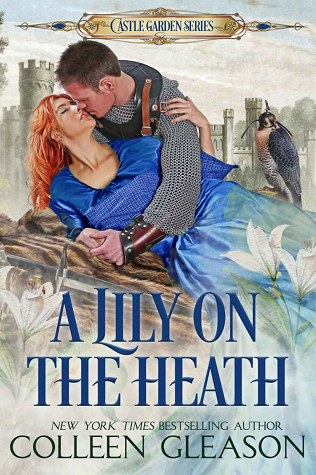 An honorable man: Malcolm de Monde, Lord of Warwick needs a wife. He reluctantly journeys to the royal court where his plan is simple: find a dutiful woman, gain the king's approval for his choice and return to Warwick with his chosen lady wedded, bedded, and carrying his heir–all before winter.
An independent woman: Judith of Kentworth, Royal Falconer and lady-in-waiting, is a woman from Malcolm's past. Although she is a confidante of the queen, Judith's beauty and vivacity attract the unwanted attentions of the king–and thus the woman who commands winged predators becomes prey herself.
A simple plan that goes awry when Malcolm is reacquainted with Judith, once betrothed to his friend–and a woman who is nothing like the meek wife he seeks…but who may be exactly the type of woman he needs.
An impossible choice: Malcolm offers Judith a chance to escape her predicament…But can she risk entangling her own personal white knight in a dangerous web of royal intrigue?
More info →

Winner of a Best Medieval Historical Romance Award from Romantic TimesBride-to-be Anora finds her wedding plans suddenly shattered when she and her identical twin, tomboyish Gwendolyn, are kidnapped and taken aboard a Viking ship. While the handsome captain mistakes Gwendolyn for a boy and appoints ...
More info →