Browse by Genre
Featured Books
A Scottish tale of privateers, whiskey, handsome men in kilts, family, and the fiery young woman who dared to love a MacLeod.
As the fourth MacLeod son, Donnan MacLeod does not have to take on the responsibilities his older siblings do. He is free to keep his business private. As a privateer, he sails the channel looking for smugglers. Very elite smugglers.
It's not until he returns to Skye for his mother's birthday that Donnan begins to lose control of his life. And it's all because of a woman, the one woman he's loved since childhood. The woman he desires above all others - that is, should he ever think of taking a wife.
Rosalind, strong willed and opinionated far more than most, is determined to find out what Donnan is hiding. Never before had they kept things from each other, but Rosalind is convinced he's keeping something huge from her.
Everything changes in the blink of an eye.
Stowing away in the back of Donnan's coach, Rosalind changes their lives forever. The adventure begins...
More info →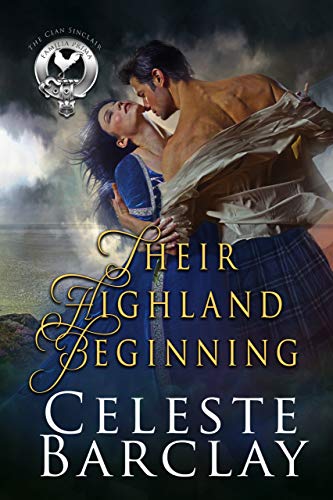 Discover how it all began... 
If you enjoy Keira Montclair, Eliza Knight, Emma Prince, and Cecelia Mecca, meet The Clan Sinclair.
A failed first impression...
Liam Sinclair is less than thrilled to be entering into an arranged marriage even if it will end a feud between his clan and the Sutherlands.  When his father announces Liam's betrothal to their enemy's daughter, Liam cannot imagine how the marriage can go well.  Liam fails to make a good first impression when his temper and tongue get away from him.  He may have destroyed his chance for wedded bliss.
Can Liam redeem himself in time to convince his bride to go through with the wedding?
An unassuming beauty...
Kyla Sutherland is not sure what to think of this man when she interrupts his less than flattering description of his unseen bride. Tempted to return to a family where she is the only woman and the unwanted daughter, Kyla must decide whether she can trust a man who does not seem to want her.
Will Kyla come to trust Liam and see past his early faults to find a love match for the ages?
An arranged marriage that creates a family which endures through love, loyalty, and honor.
Brought together in a betrothal made by their fathers, Liam and Kyla find love grows as they get to know one another. However, when a jealous family member tries to tear them apart, Liam proves that he will do anything to protect Their Highland Beginning.
More info →

Three bestselling romances by New York Times Bestselling author Tanya Anne Crosby, all rich with history and lore and capturing the passion and pageantry of the Middle Ages. This specially priced box set will be available for a limited time. HIGHLAND FIRE, BOOK 1Only one woman will tempt Aidan...
More info →