Browse by Genre
Featured Books
Henry Blackmont, duke of Blackmont has a reputation as a rakehell and all around scoundrel. Invitations to his notorious house parties are highly sought after.
A few years after the untimely death of both his parents, and left with a parcel of siblings, Blackmont swears to change his wicked ways. He needs a wife, a woman who will be his duchess. Someone he hasn't found among the usual fare of young ladies. Until he meets Miss Anna Grover...
Anna Grover is a quiet, well educated young woman, someone Blackmont might have overlooked. Born and raised on the continent, she serves as hostess to her older brother, Robert. Her facade may show her to be demure, but Blackmont soon finds her to be far more stimulating.
The duke finds himself head over heels in love, but will it all be thwarted by another young lady determined to be the next duchess of Blackmont.
More info →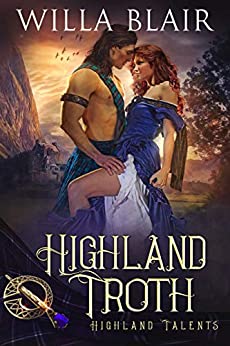 Years ago, after tragedy struck Jamie Lathan's family, fosterling Caitrin Fletcher was sent home, out of danger. Heartbroken, young Jamie never expected to see her again. He certainly never imagined he'd be called upon to escort her to be betrothed to another man.
But now, as their attraction reignites during the trip, Jamie's longing for Caitrin deepens, and he despairs to lose her again. The secret he hides, however, may prevent any chance for a future with her. Can Jamie find a way to claim her himself without starting a war involving three clans?
Caitrin is torn between her duty to make the marriage her father wants and her feelings for Jamie, the lad she's loved for years. When she meets the man her father has chosen, her secret Highland talent tells her he cannot be trusted. Can she refuse the powerful lord without revealing how she knows he's lying...about nearly everything?
More info →

A stunning conclusion to the Guardians of the Stone series!Betrayed. Sorcha dún Scoti has known her entire life that she is different. Now, the future of her clan is in doubt, and Una, their beloved seer is gone. The youngest dún Scoti inherits Una's scrying stane—and with it, the gift of sight....
More info →