Browse by Genre
Featured Books
Henry Blackmont, duke of Blackmont has a reputation as a rakehell and all around scoundrel. Invitations to his notorious house parties are highly sought after.
A few years after the untimely death of both his parents, and left with a parcel of siblings, Blackmont swears to change his wicked ways. He needs a wife, a woman who will be his duchess. Someone he hasn't found among the usual fare of young ladies. Until he meets Miss Anna Grover...
Anna Grover is a quiet, well educated young woman, someone Blackmont might have overlooked. Born and raised on the continent, she serves as hostess to her older brother, Robert. Her facade may show her to be demure, but Blackmont soon finds her to be far more stimulating.
The duke finds himself head over heels in love, but will it all be thwarted by another young lady determined to be the next duchess of Blackmont.
More info →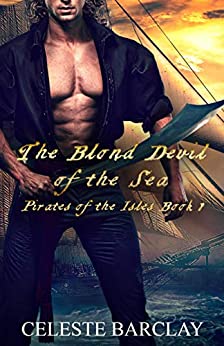 What happens when a lady smuggler meets a ruthless pirate?
Caragh Pedrick is used to men on the wrong side of the law since she runs her Cornish village's smuggling ring. Fishing no longer feeds their families in her coastal village, so she puts her resourcefulness and bravery to use. But she's unprepared for the pirate captain who captures her during a raid. Whisked away on a pirate ship, Caragh soon discovers that her pirate captain's form of command is anything but unsavory. Tempted by his piercing blue eyes and powerful manner, Caragh finds herself giving in to the Blond Devil. Can Caragh leave her smuggler's life behind for life on the high seas? 
What happens when a pirate captain tries to tame the fearless woman he mistakes for a lad?
Rowan MacNeil was forced from his home on the island of Barra and into a life of piracy. Now the captain of his own ship, Rowan expects obedience from the minx he unwittingly captures. When he raids the quiet village of Bedruthen Steps, Rowan decides Caragh, dressed as a lad, would make a fine cabin boy, but it's not long before Rowan discovers the curves that lay beneath her disguise. While he likes her spirit, his palm itches to lay down the law with the woman who's invaded his cabin and his life. The question is: will she give in to the Blond Devil?
When misunderstanding and distrust threaten his burgeoning relationship, Rowan must put his faith in his lady smuggler. With a choice to make, Caragh must decide if she can forgive her pirate lover and make a new life with him. Can Rowan put his painful past behind him to save his burgeoning relationship? Can she curb her independent spirit in exchange for an adventurous new love?
More info →

"Magical from the very start." —InD'Tale Reviews Embark on a journey into magical Medieval Scotland, to a time when the shadowy Picts are in peril of vanishing from the annals of history, and Scotland itself will arise as a nation from the ashes of betrayal.A Clash of Clans. From the Borderlands ...
More info →