Browse by Genre
Featured Books
Lady Lily MacLeod has had enough of her oldest brother's meddling. While in London, Rory MacLeod, duke of Skye has promised his sister to an earl who is twice her age in hopes of taming his unruly sister. It's an arranged marriage where her husband-to-be views her as simply a broodmare in hopes of producing an heir. To Lily, that's a fate worse than death, and in a desperate attempt to avoid her fate, she flees and finds herself hiding on a train bound for Edinburgh.
Tobias Campbell, duke of Aberdeen is unsure what to make of the filthy stowaway found hiding on his rail car. Part of the well crafted tale she tells rings true, but Tobias is quite certain the chit has secrets--secrets he intends to uncover.
Somehow, despite being betrothed to another, the usually meticulous duke finds himself extending Lily his personal protection, and his home. But the last thing he expects to do is to fall madly in love with his beautiful houseguest.
Now, desperate times call for desperate measures and Lily and Tobias aren't the only ones caught up in this battle of strong wills and love.
More info →

One of the worst snow storms in over a decade hits England. What's the worst that could happen?
Lady Jane Blackmont finds herself stranded at the Earl of Norwood's estate. Not looking for love of any fashion, she finds herself falling for a neighbor and one of her brother's friends.
The Earl of Norwood rescues the young woman after her carriage careens off the road. Right in front of his estate. Norwood's been unlucky in love, but finds himself intrigued with the smart and talented Lady Jane.
Does he dare open himself up to love?
Life is about to hand the pair more than most young couples have to deal with in a life time. Lady Jane shows Norwood she's up to the challenge.
More info →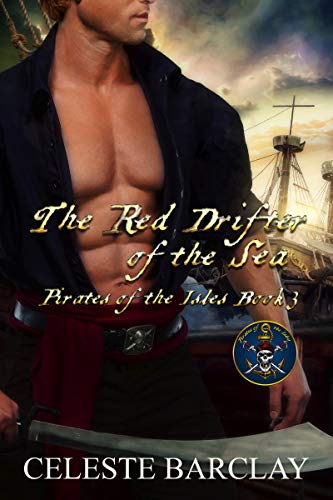 The seven seas may be his home, but this pirate is ready to drop anchor…
Kyle MacLean set sail on a life of adventure with his brother Keith when the twins were still lads. Orphaned with no choices left, Kyle and Keith find themselves aboard one pirate ship after another. When Kyle inherits the Lady Charity from the Dark Heart, he earns his deadly reputation as the Red Drifter for leaving his captives with only a wooden board. But when he attacks the ship holding a woman he's admired from afar, Kyle's heart is the one set adrift.
Love hides in the most unexpected places aboard a pirate ship…
Lady Moira MacDonnell flees her home and her duplicitous brother in the dead of night to avoid being betrothed to a vile man. Smuggled aboard a ship on her way to freedom, Moira discovers the man she once admired is now the man holding her captive. Tired of being forced into silence, Moira unleashes her rebellious streak...which lands her over the Red Drifter's knee. When her emotions aren't the only thing tied up, Moira must make a desperate choice between a dangerous life as a pirate queen or the safety she seeks with the reformed pirates, the Dark Heart and the Blond Devil, and their families.
As danger lurks along the Irish coast, Kyle and Moira find their budding romance challenged by the very men Moira fled. Separated at sea, Moira and Kyle fight on land to make their way back to one another. But can a pirate and his lady learn to rely on one another or is their love doomed to the bottom of the Irish Sea?
More info →