Browse by Genre
Featured Books
"The Dragonfury series is a definite keeper." – Night Owl Reviews, 5 star Top Reviewer Pick
Trapped by a future she refuses to face…
Accused of cyber espionage by the United States government, ethical hacker Ivy Macpherson is now on the FBI's most wanted list. Out of options, she runs, desperate for time to prove her innocence. When fate takes an unexpected turn, bringing her face-to-face with Tydrin, she must decide—trust a man more dangerous than the hunters on her trail to keep her safe. Or risk capture by a covert agency well known for ruthlessness.
Condemned by a past he doesn't want to remember…
Cursed with a terrible temper, Scottish dragon-warrior Tydrin struggles to atone for a mistake that took innocent lives. Unable to forgive himself, he returns to the scene of his crime in hopes of finding absolution, but discovers a woman in need of his help instead. Intervening in the nick of time, he whisks Ivy to safety, only to realize the daughter of the family he wronged is the one destined to steal his heart.
More info →

Five men emerge from the remnants of destruction with extraordinary new powers. 
They are humankind's last hope, but they cannot survive this devastated world alone.
When Dr. Elliott Drake emerges from a cave after traveling fifty years through time, the world as he knew it in 2010 is gone. Cities are overgrown jungles, and what's left of civilization has been repressed by crystal-wearing immortal beings. But even more unsettling: Elliott has acquired an extraordinary ability–the power to heal.
But even that gift, in a world that lacks the technology and infrastructure of his past, is a two-edged sword for Elliott.
Jade Kapiza, who was once imprisoned by the immortal beings, has been in hiding for years. But now she's determined to help the human race fight back against the control of her captors. She can trust no one…but when Elliott comes into her life, he pushes at her defenses and begins to tear down the walls she's built so carefully.
Yet the mysterious doctor seems to have secrets of his own. Can Jade trust Elliott with her heart, even as they risk their lives to save a band of innocents?
And can Elliott find a new place for himself–a home–in this new, ravaged world?
More info →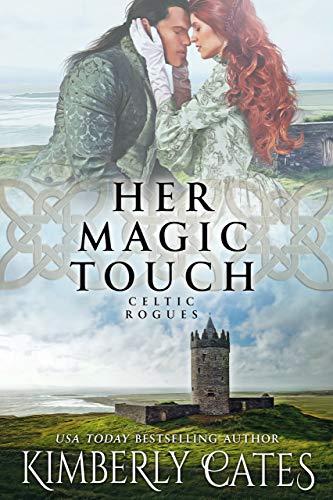 A Desperate Magic...
On Beltane eve, Mary Fallon Delaney steals to a castle ruin where her mother's allegedly magical brooch has been hidden all these years, waiting for the right moment to summon "Ciaran of the Mist," a mythical Celtic warrior promised to appear at the hour of Ireland's greatest need. A legend to be sure, but Fallon is willing to try anything to save Ireland from the marauding English. When she waits for the moonlight to work its magic with the brooch, a naked stranger stumbles out of the mist and she stares in disbelief.
A mysterious stranger...
As much as he insists he is no Celtic warrior from the fairy realm, this mad Irish beauty insists on calling him Ciaran. He knows nothing of his life before he stumbled out of the mist, his head gashed, and he has no intention of getting swept up in the clash between the Irish and the English. However, when Ciaran encounters the villainous Captain Lionel Redmayne, who is fascinated by Fallon, Ciaran finds himself caught up in Fallon's world of rebellion, wishing he could be the hero she longs for.
A sacrifice foretold...
But whatever his identity, Ciaran knows how the story will end. He will walk into the mist alone— unless the passion he finds in Fallon's arms is strong enough to ransom him from the secrets locked in his past. Yet does Fallon have the courage to love an all too flawed mortal when she's spent a lifetime in love with a dream?
More info →