Browse by Genre
Featured Books
A time when kings and queens vie for power amid treachery and betrayal…a time when brave knights live and die by a code of honor…And a time when women are nothing more than political game pieces, moved at will by the men in their lives.
One woman dares to be different.
Maris of Langumont manages her father's vast estate, rides as well as any man, treats the sick and injured with herbs from her garden, and boldly argues politics with her father's peers. But everything changes the day her beloved father pledges her hand in marriage to a man she's never met.
Mistaken Identity
Dirick of Derkland cares about nothing but seeking vengeance for his father's brutal death. When the beautiful and spirited Maris mistakes him for her betrothed, sparks ignite, and he suddenly finds himself torn between honor and the only woman who may be able to heal his soul.
A Whisper of Rosemary
Maris is a gifted healer who can cure many ills with the herbs in her garden. But can she find a remedy for the danger and deception that threaten to keep her from the man she loves?
More info →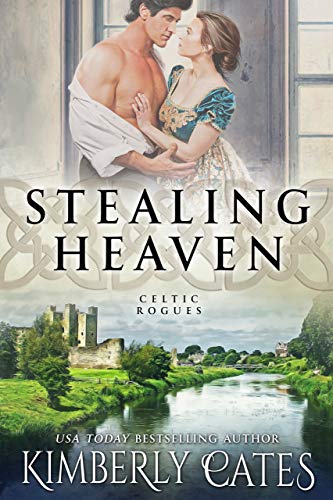 A dangerous deception...
Spinster Norah Linton gambles on a last chance at love and travels to Ireland to wed—sight unseen—Sir Aidan Kane. Upon her arrival at Castle Rathcannon, she is horrified to learn that the tender letters that won her heart were actually penned by Sir Aidan's high-spirited daughter. Not only is Sir Aidan Kane not the tender-hearted widower she thought, he is a scoundrel rumored to have murdered the first Lady Kane.
A dedicated bachelor...
Aidan Kane loves his daughter, Cassandra, and would do almost anything for her—except give up his rakish ways to become leg-shackled to the overly prim Miss Linton. But his past comes to haunt him when Cass longs for a London Season. He knows she'll be ostracized for her parents' sins. When he discovers that the very proper Norah Linton is the granddaughter of a famous general, he realizes that her honorable lineage could save Cass from humiliation at the hands of the haute ton. But is that worth putting his head through the matrimonial noose?
A devil's bargain...
They each agree to the marriage—eyes wide open, both knowing it's not for love. And just as they settle into their fragile world, the rumors surrounding the mysterious death of Aidan's first wife rear up again. As unknown enemies seek revenge, striking at the heart of everything Aidan holds dear, he and Norah must learn the truth of what really happened before all is lost.
More info →

Less than 48 hours. That's how long Florence W. Aldridge has to live. Every event in a person's life is connected. The state of our lives, at any given time, is the sum of everything we have done and everywhere we have been. Our next decision determines, not merely where our lives end, but who we b...
More info →