Browse by Genre
Featured Books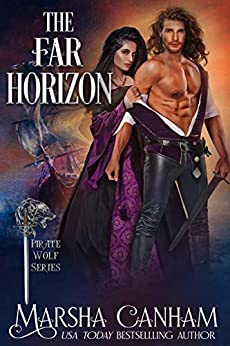 The Far Horizon is the fourth and final installment in the Award-Winning Pirate Wolf series. It is preceded by Across A Moonlit Sea, The Iron Rose, and The Following Sea. The series follows the Dante family through forty years of turbulent sea adventures, beginning with the patriarch fighting alongside Sir Francis Drake, and ending with Jonas Dante's pursuit of revenge.
More info →

Originally titled Boxing Day, Eleanor's Hero is a classic Christmas short story of love set in turn of the century New York City. When her grandfather dies, lonely spinster Eleanor Austen is forced to move into an apartment on the top floor of the building he leased to a noisy gymnasium owned by famed Irish boxer Conn Donnoughue. During a snowy and magical December, two lonely people just might find they have more in common than they thought…
More info →

He should never have kissed her...Laird Connor MacLauchlan doesn't want a wife, but he finds his Berserker mate in the heat of battle. Though he fears for her safety from the darkness that lurks inside him, fate dictates he must take her and make her his...She was meant to be his enemy's bride...Bor...
More info →