Browse by Genre
Featured Books
A Scottish tale of privateers, whiskey, handsome men in kilts, family, and the fiery young woman who dared to love a MacLeod.
As the fourth MacLeod son, Donnan MacLeod does not have to take on the responsibilities his older siblings do. He is free to keep his business private. As a privateer, he sails the channel looking for smugglers. Very elite smugglers.
It's not until he returns to Skye for his mother's birthday that Donnan begins to lose control of his life. And it's all because of a woman, the one woman he's loved since childhood. The woman he desires above all others - that is, should he ever think of taking a wife.
Rosalind, strong willed and opinionated far more than most, is determined to find out what Donnan is hiding. Never before had they kept things from each other, but Rosalind is convinced he's keeping something huge from her.
Everything changes in the blink of an eye.
Stowing away in the back of Donnan's coach, Rosalind changes their lives forever. The adventure begins...
More info →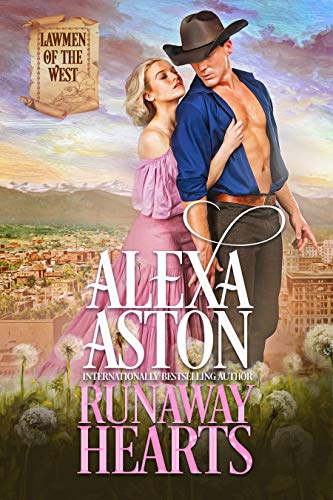 A young woman fleeing to save her life.
A untrusting loner weighed down by guilt.
Two very different souls who find love in the booming American West . . .
Shortly after her beloved father's death, Emma Bradford becomes a runaway heiress when she overhears her beau and stepmother plotting to steal her fortune—and take her life. She jumps on a train headed to the American West and is instantly attracted to a handsome stranger onboard.
Pinkerton detective Rye Callahan is assigned to protect an opera diva as she travels from New York to Colorado and remain undercover as a bodyguard during her engagement at Denver's newest opera house. Along the way he encounters a beautiful woman who looks and sings like an angel, but Rye is married to his job and determined not to become involved with the woman romantically.
But Rye and Emma wind up living in the same house in Denver, and their relationship heats up fast. When the diva disappears without a trace, Emma takes her place on stage—only to wind up missing soon after. Rye races against the clock to find both women in time. And if he does, will he be able to open his heart and learn to love?
More info →

A witty, passionate Victorian read by New York Times and USA Today best-selling author Tanya Anne Crosby.Lady Margaret Willingham is a wealthy heiress, who knows what she wants. No husband. No children. No man to tell her what to do, or how to do it. Forced to marry, or lose her inheritance, she def...
More info →