Browse by Genre
Featured Books
Aerin. So she played with some dark magic, what's the worst that could happen? For Aerin de Moray and her sisters, it's that witch hunters are no longer a 400 year-old problem. What's a girl to do with this new threat when she's already trying to corral zombies, fight a she-devil with a penchant for possession, all while attempting to thwart the prophesied apocalypse? She'll keep her sisters close, and her enemies closer… like in her bed.
Tierra. She's accidentally sent her baby's daddy to hell. Who has time for the apocalypse? Dooming Death to Lucifer's infernal realms might have seemed like a good idea at the time, but with uncollected souls swarming the manor and her unborn child's alarming powers increasing by the minute, Tierra de Moray has a hell of a problem on her hands. If Tierra can't find a way to rescue Killian Bane before the Devil gets her due, the world doesn't stand a ghost of a chance.
Moira. For Moira de Moray, fending off witch hunters, dodging ghosts from her past, and surviving Conquest's insistent advances has become a full-time vocation. So, when it comes time to serve Lucifer an eviction notice, Moira aims for the surefire solution—jealousy. But pretending to bump uglies with another Horseman could produce results more deadly than Moira had planned, particularly if Nick Kingswood has anything to say about it.
Claire. Claire de Moray is caught between her first love and the fierce Horseman known as War. She needs to pick one and let the other go, but how can she make a life-altering decision when she's busy hunting the witch hunters who'd like to burn her at the stake? She's not afraid because she is Fire, but their arsenal is deadlier than she expects. Pushed to the limits, Claire takes a chance to save her family and stop the apocalypse, but gets far more than she bargained for.
More info →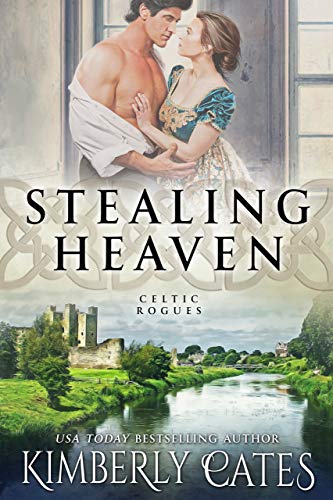 A dangerous deception...
Spinster Norah Linton gambles on a last chance at love and travels to Ireland to wed—sight unseen—Sir Aidan Kane. Upon her arrival at Castle Rathcannon, she is horrified to learn that the tender letters that won her heart were actually penned by Sir Aidan's high-spirited daughter. Not only is Sir Aidan Kane not the tender-hearted widower she thought, he is a scoundrel rumored to have murdered the first Lady Kane.
A dedicated bachelor...
Aidan Kane loves his daughter, Cassandra, and would do almost anything for her—except give up his rakish ways to become leg-shackled to the overly prim Miss Linton. But his past comes to haunt him when Cass longs for a London Season. He knows she'll be ostracized for her parents' sins. When he discovers that the very proper Norah Linton is the granddaughter of a famous general, he realizes that her honorable lineage could save Cass from humiliation at the hands of the haute ton. But is that worth putting his head through the matrimonial noose?
A devil's bargain...
They each agree to the marriage—eyes wide open, both knowing it's not for love. And just as they settle into their fragile world, the rumors surrounding the mysterious death of Aidan's first wife rear up again. As unknown enemies seek revenge, striking at the heart of everything Aidan holds dear, he and Norah must learn the truth of what really happened before all is lost.
More info →

Lady Katharine Farnsley has been jilted yet again. Her cold exterior masking a world of hurt, she despairs of ever finding true love. But when a mysterious stranger comes to her, hurt and desperate on a snowy Christmas Eve, she never dreams that opening the door to him will change her life forever ....
More info →