Browse by Genre
Featured Books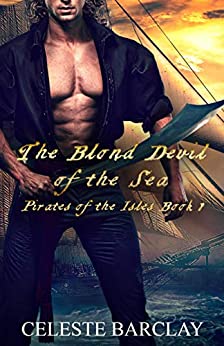 What happens when a lady smuggler meets a ruthless pirate?
Caragh Pedrick is used to men on the wrong side of the law since she runs her Cornish village's smuggling ring. Fishing no longer feeds their families in her coastal village, so she puts her resourcefulness and bravery to use. But she's unprepared for the pirate captain who captures her during a raid. Whisked away on a pirate ship, Caragh soon discovers that her pirate captain's form of command is anything but unsavory. Tempted by his piercing blue eyes and powerful manner, Caragh finds herself giving in to the Blond Devil. Can Caragh leave her smuggler's life behind for life on the high seas? 
What happens when a pirate captain tries to tame the fearless woman he mistakes for a lad?
Rowan MacNeil was forced from his home on the island of Barra and into a life of piracy. Now the captain of his own ship, Rowan expects obedience from the minx he unwittingly captures. When he raids the quiet village of Bedruthen Steps, Rowan decides Caragh, dressed as a lad, would make a fine cabin boy, but it's not long before Rowan discovers the curves that lay beneath her disguise. While he likes her spirit, his palm itches to lay down the law with the woman who's invaded his cabin and his life. The question is: will she give in to the Blond Devil?
When misunderstanding and distrust threaten his burgeoning relationship, Rowan must put his faith in his lady smuggler. With a choice to make, Caragh must decide if she can forgive her pirate lover and make a new life with him. Can Rowan put his painful past behind him to save his burgeoning relationship? Can she curb her independent spirit in exchange for an adventurous new love?
More info →

Five men emerge from the remnants of destruction with extraordinary new powers. 
They are humankind's last hope, but they cannot survive this devastated world alone.
When Dr. Elliott Drake emerges from a cave after traveling fifty years through time, the world as he knew it in 2010 is gone. Cities are overgrown jungles, and what's left of civilization has been repressed by crystal-wearing immortal beings. But even more unsettling: Elliott has acquired an extraordinary ability–the power to heal.
But even that gift, in a world that lacks the technology and infrastructure of his past, is a two-edged sword for Elliott.
Jade Kapiza, who was once imprisoned by the immortal beings, has been in hiding for years. But now she's determined to help the human race fight back against the control of her captors. She can trust no one…but when Elliott comes into her life, he pushes at her defenses and begins to tear down the walls she's built so carefully.
Yet the mysterious doctor seems to have secrets of his own. Can Jade trust Elliott with her heart, even as they risk their lives to save a band of innocents?
And can Elliott find a new place for himself–a home–in this new, ravaged world?
More info →

"A sumptuous and enjoyable read!" - Romantic Times
If Lord Donovan Trent had his way, he would spend his days carelessly wooing the women of London society. Instead, he finds himself banished to the English countryside of Cornwall, forced by the decrees of his father's will to run his family's tin mines and find a country bride.
More info →