Browse by Genre
Featured Books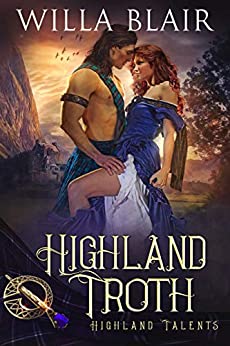 Years ago, after tragedy struck Jamie Lathan's family, fosterling Caitrin Fletcher was sent home, out of danger. Heartbroken, young Jamie never expected to see her again. He certainly never imagined he'd be called upon to escort her to be betrothed to another man.
But now, as their attraction reignites during the trip, Jamie's longing for Caitrin deepens, and he despairs to lose her again. The secret he hides, however, may prevent any chance for a future with her. Can Jamie find a way to claim her himself without starting a war involving three clans?
Caitrin is torn between her duty to make the marriage her father wants and her feelings for Jamie, the lad she's loved for years. When she meets the man her father has chosen, her secret Highland talent tells her he cannot be trusted. Can she refuse the powerful lord without revealing how she knows he's lying...about nearly everything?
More info →

Fearsome Scots laird Gabriel MacLachlan must take a bride, but not just any bride. Magdalene, his liege lord's younger sister is known to be as bonny as any Highland lass but as mad as a loon. Mad Maggie, they call her—and Gabriel has no choice. Not if he wants to put food in his clansmen's bellies, clothes on their backs, and repair the crumbling castle he calls home. A fat dowry in exchange for a madwoman, whose life will be in danger from the MacLachlan family curse the instant she becomes his wife.
A generations-old curse, an honorable chieftain, a clever beauty—it's the perfect recipe for a spirited Highland Romance.
More info →

Nobody writes a love story quite like Jill Barnett, whose romantic tales are "as magical and unique as any you ever had the joy to read" (Romantic Times). Now she spirits a misty, secluded island off the central coast of Maine, where a pair of Scots brothers clash with two independent women...
The proud descendants of a Highland clan, Calum and Eachann MacLaughlan live in seclusion on a Maine island. The brothers are as different in spirits as they are in looks. Though one is dark and levelheaded, the other fair and adventurous, they have one thing in common: They want brides. When Eachann's two unruly children are expelled from school, he is even more determined to wed. Following an old Scottish tradition, Eachann decides to solve the problem for both himself and his brother….
Spying on a fancy society party, Eachann sees a solution before him. The always capable debutante Georgina Bayard is basking in the light of her own ball. Meanwhile, outside, Amy Emerson is valiantly struggling to conceal her first broken heart. Swept away by this young Scotsman, both young women become captives. Kidnapped and furious, with only each other for support, Amy and Georgina have a choice: fight for the life they'd previously known…or let their hearts get carried away….
More info →