Browse by Genre
Featured Books
A Scottish tale of privateers, whiskey, handsome men in kilts, family, and the fiery young woman who dared to love a MacLeod.
As the fourth MacLeod son, Donnan MacLeod does not have to take on the responsibilities his older siblings do. He is free to keep his business private. As a privateer, he sails the channel looking for smugglers. Very elite smugglers.
It's not until he returns to Skye for his mother's birthday that Donnan begins to lose control of his life. And it's all because of a woman, the one woman he's loved since childhood. The woman he desires above all others - that is, should he ever think of taking a wife.
Rosalind, strong willed and opinionated far more than most, is determined to find out what Donnan is hiding. Never before had they kept things from each other, but Rosalind is convinced he's keeping something huge from her.
Everything changes in the blink of an eye.
Stowing away in the back of Donnan's coach, Rosalind changes their lives forever. The adventure begins...
More info →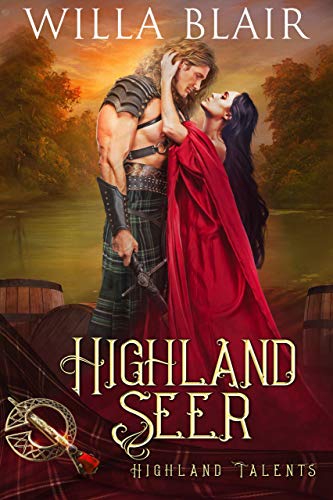 Donal MacNabb is loyal to his adopted Lathan clan, yet he resents being a pawn in their treaty negotiations with the struggling MacKyries. The MacKyrie clan needs his skills as an arms master, but its Laird is bartering for more than Donal is prepared to give.
Ellie MacKyrie knows the Lathan treaty will help protect her clan from the neighbor determined to seize her holdings any way he can--including forcing her into marriage. But she has another reason to want the Lathan alliance. She has Seen the stubborn Donal MacNabb reaching for her in her dreams.
While Donal fights to save a clan in trouble, his desire for the MacKyrie Seer wars with his obligation to his Laird. Before she is forced into a marriage that will destroy her clan, Ellie must find the heart behind Donal's gruff exterior and convince him he is the man of her dreams.
More info →

From New York Times Bestselling Author Jill Barnett comes a funny, heartwarming battle of the sexes love story....
When Addie Pinkney inherits her aunt's farm, the legacy feels like an answer to her prayers...until she arrives and meets Montana Creed. Creed also has a claim on the land where her aunt and uncle established a farm. The attorneys for both explain they need to wait until a judge will rule, but to insure her claim early, Addie sneaks out and takes residence in the farmhouse before Montana, thinking she has bested him.
But no such luck. Montana Creed sets up camp in front of the farmhouse, and what ensues is a charming war of wits as they both try to drive the other off the land. But soon there is more at stake than just the land they both want. These two loners must find a way to make a bargain, one that will reach far beyond a piece of lush green farmland and everything they hold dear.
More info →