Browse by Genre
Featured Books
A riveting tale of family, love, and betrayal.
Left jilted at the altar by his bride, Rory MacLeod, the Duke of Skye and chief of the MacLeod clan finds himself becoming the subject of unsavory gossip. Marriage to a respectable young lady of impeccable breeding is the only way Rory can hope to silence the gossips. Licking his wounds, he returns to London for the upcoming session of Parliament and Season. He brings with him his sister Lily. It will be her first season and one which Rory intends to find a bride of his own. He doesn't have to look far.
Victoria, the Duke of Hargrove's daughter, catches more than his eye the moment he meets her. She is everything his duchess needs to be. She is smart, beautiful and devoted to Rory. Not even his darkest secret can sway her. The bliss of married life is ripped apart by betrayal of the worst kind. His sister is kidnapped and forced into a marriage with only one purpose. Money. Even worse is who is behind it all.
With his own reputation and that of his family and clan at stake, Rory must carefully negotiate his sister's return without the world finding out about his secret. Not only could it bring shame to everyone he holds dear, it would mean his ruination and worse.
More info →

After saving Robert the Bruce's life, Cameron Campbell finds himself rewarded with an enemy's castle. His first act as laird is to release the wretched prisoners in the dungeon, one of them no youth but a flame-haired beauty on the brink of death. Alas, though Cameron is no stranger to war, he's nonetheless a stranger to women. Still, he vows to do his best to nurse Aislinn back to health. Although if he thought her helpless, he couldn't be more wrong. Fierce and loyal to her kin, Aislinn insists upon setting out to find her father and brother, both having come from Ireland to fight for King Robert. Despite that Cameron believes them executed by now, and against his better judgment, he joins her on a dangerous quest to discover her family's fate, never expecting to lose his heart along the way.
More info →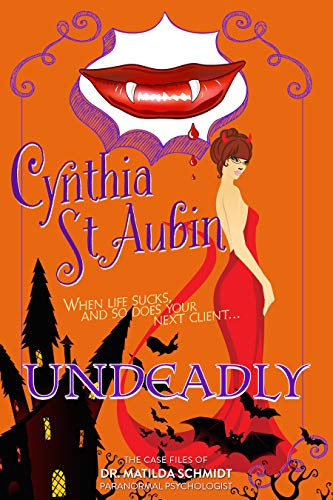 When life sucks, and so does your next client... Halloween is just around the corner, and life is bringing Paranormal Psychologist Matilda Schmidt all tricks and no treats. Ghosts haunt her in the organic produce aisle, she's been roped into attending a costume party she'd sell her soul to avoid, an...
More info →