Browse by Genre
Featured Books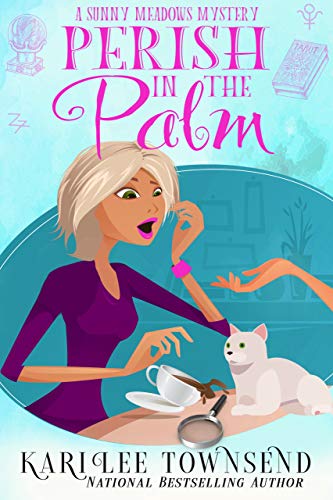 Sunny's life is finally on track. Her fortune-telling business in the quaint town of Divinity, New York is running smoothly, her parents have finally stopped interfering, and her boyfriend Detective Mitch Stone has moved in with her. But then her life derails, leaving the palm of her hand empty and her dreams just out of reach.
More info →

Inheriting the title from his murdered father, Alec finds just how dire things really are. His father's gambling obsession left the family with nothing but the entailed properties. The ton views him as a disgraced duke.
Alec, now The Duke of Wexwood finds himself in need of a bride. One with a substantial dowry. It needn't be a love match as Alec doesn't believe love exists except in rare cases. He needs a woman who can help him rebuild the dukedom.
Margaret Douglas is an American recently arrived back in England. She has fulfilled her late father's wishes by returning with her mother. Now she needs to find a husband. One who won't squander her dowry, someone who'll see her as an equal. Introduced by her cousin, the Earl of Norwood, Margaret and Alec come to an agreement which quickly turns into a passionate romance. Lurking in the background are secrets—ones Margaret can't hide from the duke. Secrets she brought from America. What will happen when Alec finds out what she's hiding?
More info →

Five men emerge from the remnants of destruction with extraordinary new powers. 
They are humankind's last hope, but they cannot survive this devastated world alone.
When Dr. Elliott Drake emerges from a cave after traveling fifty years through time, the world as he knew it in 2010 is gone. Cities are overgrown jungles, and what's left of civilization has been repressed by crystal-wearing immortal beings. But even more unsettling: Elliott has acquired an extraordinary ability–the power to heal.
But even that gift, in a world that lacks the technology and infrastructure of his past, is a two-edged sword for Elliott.
Jade Kapiza, who was once imprisoned by the immortal beings, has been in hiding for years. But now she's determined to help the human race fight back against the control of her captors. She can trust no one…but when Elliott comes into her life, he pushes at her defenses and begins to tear down the walls she's built so carefully.
Yet the mysterious doctor seems to have secrets of his own. Can Jade trust Elliott with her heart, even as they risk their lives to save a band of innocents?
And can Elliott find a new place for himself–a home–in this new, ravaged world?
More info →