Browse by Genre
Featured Books
When a stranger, a golden knight who is one of the king's barons, comes to Glenna Gordon's isolated island farm, she learns her whole life has been a lie. Lyall Roberston, Baron Montrose, carries a secret royal order to take Glenna to the father she has never known, a man so powerful he has hidden his daughter away to protect her from his enemies.
Raised in seclusion for her own safety, with no knowledge of who she really is, Glenna has become strong and self-reliant, someone who is unused to being ordered about. But Lyall doesn't have time to deal with one headstrong woman. He has a single, all-consuming goal: to win back his family lands lost when his father was declared a traitor.
As they ride across the wild hills and valleys of Norman Scotland, a land filled with unexpected danger and treachery, they are swept into a forbidden love, one as dangerous as the enemies pursuing them. But Lyall is tortured by a dark past and a secret that threatens their love, and soon, Glenna must face the truth: that her heart as well as her life is at risk.
More info →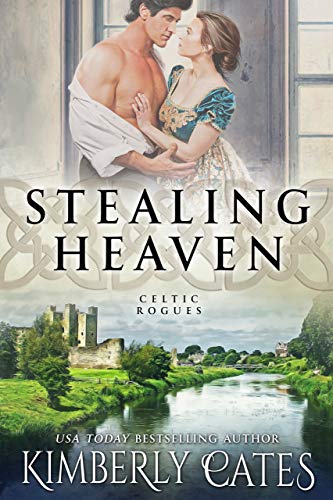 A dangerous deception...
Spinster Norah Linton gambles on a last chance at love and travels to Ireland to wed—sight unseen—Sir Aidan Kane. Upon her arrival at Castle Rathcannon, she is horrified to learn that the tender letters that won her heart were actually penned by Sir Aidan's high-spirited daughter. Not only is Sir Aidan Kane not the tender-hearted widower she thought, he is a scoundrel rumored to have murdered the first Lady Kane.
A dedicated bachelor...
Aidan Kane loves his daughter, Cassandra, and would do almost anything for her—except give up his rakish ways to become leg-shackled to the overly prim Miss Linton. But his past comes to haunt him when Cass longs for a London Season. He knows she'll be ostracized for her parents' sins. When he discovers that the very proper Norah Linton is the granddaughter of a famous general, he realizes that her honorable lineage could save Cass from humiliation at the hands of the haute ton. But is that worth putting his head through the matrimonial noose?
A devil's bargain...
They each agree to the marriage—eyes wide open, both knowing it's not for love. And just as they settle into their fragile world, the rumors surrounding the mysterious death of Aidan's first wife rear up again. As unknown enemies seek revenge, striking at the heart of everything Aidan holds dear, he and Norah must learn the truth of what really happened before all is lost.
More info →

Beset by prophetic dreams since the time she was a child, Elienor knew the Norsemen would storm Brouillard castle—she saw it in a dream. She saw the death of many. And she saw him—the golden-haired Viking who would claim her for his prize... Jarl Alarik Tryggvason sought revenge against the Fren...
More info →