Welcome back to the blog, Gayle! We're so excited to have you here to talk about The Viscount in her Bedroom!
This book is the third book in your Sisters of Willow Pond series, a series that follows the Shelby sisters, correct? So we were curious, for those readers who haven't read the first two, how interconnected is the series? Can they be read as standalone stories, or should they be read in order?
Thanks so much for having me back! I love to answer questions about my books. I'm always very careful to write my novels in a standalone fashion. I don't want readers to be confused. The three books take place in three different locales in England. If you read The Viscount in Her Bedroom first, you'll hear that Louisa's sisters are already in a relationship, but there are no spoilers.
And how did this series come to life? Did you get the idea for one sister and then it snowballed from there, or was it always going to be a series about the three of them?
This may seem silly, but I'd always wanted to write a governess story, which was the genesis of this trilogy. I had to think of why a young lady had no money. Plus, I like to plot in trilogies, so yes, it was always going to be the three of them. So then I had to come up with why three sisters are about to be destitute, leading one to settle for a marriage of convenience, one to become a governess, and the other to become a companion to an elderly woman.
When you were here last time, we talked a little bit about how you research for your Contemporary Romances. How much more research goes into these Historicals?
It's funny—I think there's an almost equal amount of research in contemporaries as well as historicals. In historicals, sometimes you need to research an actual historical event, but lots of times, you're researching how people live, what they ate, what they wore, the way Society functions. In contemporaries, you're researching parts of the country where you set the book, but also careers and things that might affect how a character was formed. And you're STILL researching what people wear and what they eat, because it's not always stuff I might know. And the scarier part is that people are alive right now, living that kind of life, who'd know if I made a mistake!
In this book Simon Wade, our hero, is forced into seclusion by a tragic accident. Without giving too much away, where did you find your inspiration for this character and his situation?
So hard to write about Simon without giving it away! Lol. But I always wanted to write a character who suffered something life-altering, and see how it affects them, how it makes them question whether they can ever have a normal relationship. Over the years I've read other books where authors tackled the same issue in very different ways, and I think I wanted to challenge myself. And in doing so, Simon became one of my favorite characters I've ever written. I don't say that lightly, because our books are like our kids—you can't really choose a favorite. But Simon stuck with me. I was very happy to bring him into a later book where his brother is the main character, Every Scandalous Secret.
Can you tell us a little more about Louisa? How is she different from her sisters?
Louisa was always at home in Society, unlike her sisters, musician Victoria and scholar Meriel. She's the perfect middle child, a diplomat putting people at ease. Of the three sisters, she was the closest to her father, and never realized the depths of despair that led to his death. She harbors a terrible feeling of guilt that she should have seen the truth, should have done more to help her father.
And what about the elderly Viscountess she lives with? How much of a pain is she for our heroine?
The reader will see early on that the Viscountess is not much of a pain—unless you count how insistent she is that Louisa can help her in a different way. She's an active, social older woman, who misleads Louisa about why she's being hired. She has plans for Louisa to help her grandchildren, Simon and his sister Georgiana, but Louisa is not sure she's up to the challenge.
Finally, is this the last we'll see of Willow Pond?
I liked it too much to leave it behind! As I mentioned earlier, I wrote Every Scandalous Secret to give Simon's brother Leo some comeuppance (he's a bad boy in The Viscount in Her Bedroom), and to be able to visit some of my favorite characters again.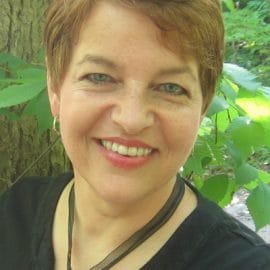 After a detour through fitness instructing and computer programming, Gayle Callen found the life she'd always dreamed of as a writer. This USA Today bestselling author has written more than twenty-five novels and has won the Holt Medallion, the Laurel Wreath Award, the Booksellers' Best Award, and the National Readers' Choice Award. Her books have been translated into eleven different languages.
An avid crafter, singer, and outdoor enthusiast, and the mother of three grown children, Gayle lives in Central New York with her husband, Jim. She also writes contemporary romances as Emma Cane.
You can find her on Facebook, Instagram, Twitter/X, BookBub, or her website. 
If you want to keep in touch with what she has going on, you can always sign up for her Newsletter, too!