For our final excursion together during this Summer Showdown, you decide you're in the mood for a solitary picnic. You pack a blanket, a bottle of your favorite chilled beverage, all of your best snacks, and then realize you're missing that last little thing… the cherry on top of a perfect afternoon in the sun, your book.
And what type of book did you choose?
Well, you hovered over a few Contemporary Romances. You want those warm fuzzies and those tugged heartstrings, but you need something more. You want to escape into a totally different time period. And so, yes, you choose a Historical Romance!
And if you're keeping score, and we sure hope that you are, that means that, since this was the last match of the Summer Showdown, Historical Romance is the Genre of the Summer for 2023!
So, this is the point where we suggest to you 5 books from your chosen genre, right? Nope! This time we're extending it to 10, and we're doing it while diving into some of our favorite sub-genres in the Historical Romance world.
First up is Medieval Romance. These are the books with your kings and queens, your knights and your headstrong maidens who are tough enough to put those knights in their place when needed.
Of course, in the case of Across a Moonlit Sea by Marsha Canham, you can also have pirates! Here, Simon Dante, The Pirate Wolf, meets his match in battle and in love when he crosses swords with Isabeau Spence. Together they join forces with Sir Francis Drake on a daring attack on Cadiz.
Another option for you is Picking up the Gauntlet by Elizabeth Rose. It's the start of her new Below the Salt series and follows Lady Raven Blake, who is tired of being told what her life will look like. She's skilled with a blade and with her wit, which she uses to trick Jonathan Armstrong, the castle smith and her bodyguard, into making her a suit of armor in secret. She's determined to break the boundaries put on her, but will she break Jonathan's heart at the same time?
While you're looking through Medievals, it's almost impossible not to feel that draw to the beloved sub-genre of Highlander Romances. They are often Medieval, but not always, and are full of men with kilts and brogues, and women with sharp tongues and the tenacity to get what they want.
Knight in Her Bed by Sue-Ellen Welfonder definitely fits that last part. In this foray into the Scottish Highlands, you'll find Lady Isolde MacInnes, who is the chieftain of her clan and who has been given the opportunity to have the man who killed her sister put to death. The only thing is, she doesn't believe he did it. Sure, the MacLeans used to be their sworn enemies, but they've seen peace in recent years. Plus, she wants to keep this MacLean for herself.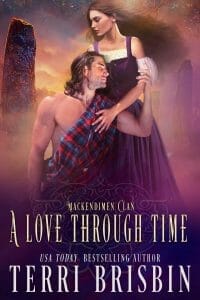 If you like your Highlander Romances with a bit of time travel on the side, you might just devour A Love Through Time by Terri Brisbin. Maggie Hobbs has had enough of controlling men in her life. During a stop at a clan ceilidh, Maggie meets the man who should be heir to the Clan MacKendimen, one whose father turned his back on his heritage for a new life in America. And then Fate steps in to throw her back to a time when men controlled everything!
Now we're going to zoom through time a bit ourselves to land at Regency Romances. If you're a fan of Jane Austen or Bridgerton, this is the stop for you. Society follows a strict set of rules for our heroes and heroines to break. There might even be balls, where they may stare yearning across the room at each other, or else be thrown together on the dance floor.
In A Misbegotten Match by Rita Boucher, Sebastian Armitage is personally acquainted with the damage caused by secrets and lies. Wanting nothing to do with the pain of his past, he breaks all ties with England… All but the one that pulls him back home. His elderly godmother has fallen ill and her companion, Amanda Westford, summons him to be at her bedside. He's not sure what he thinks of this Amanda. He even thinks she might be using his godmother to her advantage… but the closer he gets, the more he can't get her out of his head.
What about Scandalously Yours by Cara Elliot? The eldest of the three Sloane sisters, Olivia, is unafraid to question the boundaries of Society – even if it does frequently land her in trouble. She prefers to spend her time writing fiery political essays under a pseudonym for London's leading newspaper. But when her columns attract the attention of the Earl of Wrexham, Olivia suddenly finds herself dancing on the razor's edge of scandal.
Now we'll take a little hop forward again to find ourselves at Victorian Romances. The societal structures are still here, but things are slightly more modern. Times are changing fast for our heroes and heroines as they do their best to find their places in the world and in the hearts of each other.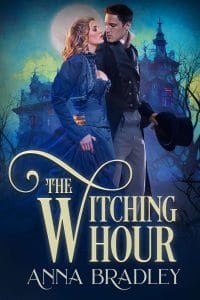 Victorian Romances might also have a hint of the Gothic in them, as is true for The Witching Hour by Anna Bradley. In a mysterious castle in Oxfordshire, Sylvie Bentham, Countess of Trevelyan, lays dead of a fever at the tender age of 23… and yet she doesn't feel dead. What's more, when her long lost husband, James, appears at her bedside, the frozen blood rushes through her veins once more and her lifeless heart beats wildly in her chest. Can the two of them reconcile their differences and rekindle a love that might very well lure her wholly back from the brink of death?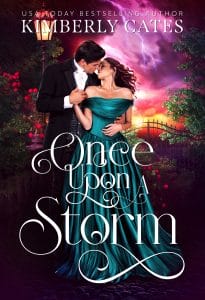 If you're not into the Gothic side of things however, you may prefer Once Upon A Storm by Kimberly Cates. A promise to a dying friend is the reason Captain Simon Harcourt has returned to the place of his youth, a place that harbors lies, pain, and the memory of a woman who knew the best of him, Penelope Waverly. To fulfill his promise, he must make another, to raze the village there, simply so that the Earl can have a better view. There's only one thing standing in his way, Penelope. Will he choose to betray her or will they join forces and gamble everything, even their hearts?
Finally, we've reached the American Frontier for our last sub-genre, Western Romances. These take place out in the Wild West, where much of society is a thing of the past and practically anything can happen. There might be cowboys, bandits, a whole slew of other dangers for our heroes and heroines to fall prey to.
Brighter that Gold by Cynthia Wright is a perfect example. In 1864 Columbia, California, the gold rush ended long ago, but spirited Katie MacKenzie yearns for real adventure. By day, she helps run her father's saloon, then eagerly turns to her true passion: writing articles for the local newspaper about the Griffin, a Robin Hood-style highwayman who robs the unscrupulous mine owners and gives back to the townspeople.
And then there's Rebecca Paisley's Heartstrings. When bluestocking bookworm Theodosia Worth resolves to bear a baby for her childless sister, she decides an advertisement is the most practical way to find a father. Leaving behind the comforts of Boston, she travels west in the hope of striking a business-only arrangement with a likely candidate.
And there you go, you've reached the bottom of our stack. We hope you found a book (or a few) that tickles your interest. We want to also say a hearty thank you to all of you who voted so that we could get here. We had so much fun seeing what you chose and picking out books for you.
Until next time!