Today we're welcoming award-winning author Willa Blair to the blog. Most recently, her novel HIGHLAND RECKONING was awarded Third Place in the Historical category in the 2023 National Excellence in Storytelling Contest! First of all, congratulations! We're so thrilled for you! How did it feel when you found out you'd placed?
Excited! I love having my books recognized and enjoyed. HIGHLAND RECKONING is the most recent finalist, but HIGHLAND PRODIGY, the first book in the same Highland Talents Heritage series, was also a finalist in the Historical category of the 2022 National Excellence in Romance Fiction Award. Answering this question led me down the rabbit hole of making a list of which of my other books had similar successes. Across all of my series, there were more than I remembered. That was fun!
For those who haven't read it, can you tell readers a little bit about Highland Reckoning?
HIGHLAND RECKONING's hero Drummond Lathan is the oldest of five siblings whose mother is the Highland Healer of the book by that name in my original Highland Talents series.  He's never shown any sign that he inherited any of her talent, as his younger siblings have done, so he views himself only through the lens of his position as the heir and future laird of the clan. He's overprotective, especially of his two sisters, which nearly costs one her forever love in HIGHLAND MEMORIES.
 Morven MacComas, the heroine of HIGHLAND RECKONING, is the mother of a precocious young son, but has struggled since the lad's father repudiated her at the end of their year-and-a-day handfasting—before she knew she carried his child. He disappeared, leaving her to raise her son on her own, with few friends or supporters in her small village.
 Drummond's protectiveness and Morven's distrust of men create barriers to their burgeoning romance. Secrets abound in her and her son's father's backgrounds. Drummond must guard the secret of his family's talents, especially after he finds he may have abilities of his own that help save her son.
The entire Highland Talents Heritage series weaves a bit of magic throughout it in the form of talents. This is something we see in the original Highland Talents series as well. What sort of gifts fall under this category, and what was your inspiration for telling these kinds of stories?
 Since childhood, when I first started reading science fiction and fantasy, I've been fascinated by what we now call psychic talents. Set aside the futuristic genres for the moment and look to Scotland. From early history to modern day (though perhaps less so now), some of those talents were and are accepted as real—often to the peril of those suspected of having them. Healers, soothsayers, seers, and more live in Scottish myth and perhaps, reality. Who's to say? For me, creating characters with those abilities came naturally out of the years I spent reading about them in futuristic and fantasy settings.
And if we may, what drew you to writing in the first place? Was it something you always wanted to do? Or was there a particular book or movie that just stole your heart and changed everything for you?
I was always such a voracious reader, putting words together came relatively easily to me. I think the two go hand-in-hand. Writers must also be readers, though the reverse is not necessarily true. I was the state winner of a national essay contest in the seventh grade. I started books—some that I still have filed away are so old, they're written in pencil—and wrote for school publications through high school. I studied languages from junior high through grad school, which also broadened my vocabulary in English and added to my familiarity with other cultures. I still read voraciously, and love unique turns of phrase when I run across them.
Speaking of inspiration, we hear you actually just got back from Scotland! Can you tell us a little bit about that? Were there any sites that really spoke to you or any fascinating facts you'd like to share with our readers?
 Ah, Scotland! Every time I hear, see or even think that word, I have to pause, steeping in all the beauty, drama, and history I remember from my visits there. The colors, the clean air, mountain vistas, sparkling water, the lovely, welcoming people…you get the idea. I'm besotted with the place. The only other place that comes close, in my experience, is New Zealand, also known for its astonishing beauty and wonderful people. Every time I visit Scotland, I learn more of its fascinating history, see more breathtaking vistas, meet more interesting people, and it makes me all the more eager to return.
 On this latest trip, besides revisiting several favorite spots (St. Andrews in Fife, Pitlochry in Perthshire, the Cairngorms and Inverness in the Highlands), I added new locations to my list, including the Mull of Kintyre, Sutherland, and Skye. The Kintyre peninsula is not well represented on popular lists of places to visit, but it's one that I can't get out of my mind. The views to the west looking toward Jura, Islay and even Ireland are incredible. To the east is Ayrshire, Arran, and the Ailsa Craig. The colors of sea and sky, sunset, lochs, and more, haunt me (in a good way), much as does Skye. Its reputation for beautiful vistas is well-deserved, and I barely scratched the surface of things to do and see there. I will visit both again.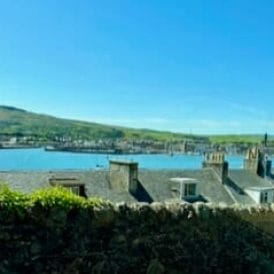 Campbeltown, Kintyre Peninsula
Kintyre Peninsula: A beautiful sugar sand beach almost all to myself, the Paps of Jura in the background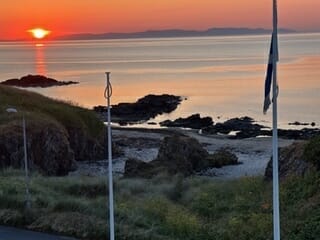 10 pm: just about sunset over Islay. The colors!

One of the Kelpies. They're even more impressive in person.
At the modernistic Victoria and Albert Museum in Dundee on the Tay River.
Statue of Flora MacDonald (she helped Bonnie Prince Charlie escape to Skye) at the under-renovation Inverness castle.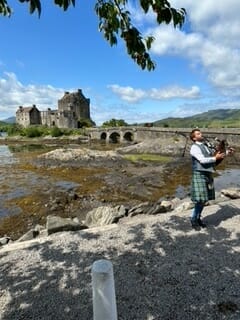 A piper at Eilean Donan
The scenery around Eilean Donan is breathtaking.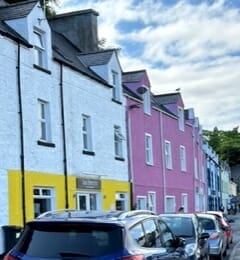 Colorful harbor-front in Portree on Skye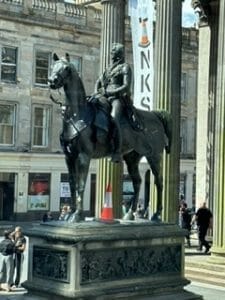 There's something wrong with this statue in Glasgow. The traffic cone is supposed to be on his head. (Really).
The gorgeous area around Glasgow University and the Kelvingrove Museum.
 That sounds absolutely glorious! Thank you so much for sharing all of your beautiful pictures! Is there anywhere readers can read any more about your trip?
 Absolutely! I took almost 2000 pictures in Scotland. I've posted lots of the best ones on my Facebook page—those are the easiest to find. My newsletter subscribers will see a few more, and I'll add some to my Twitter (or is it X now?) and Instagram feeds as well, but the majority are already on Facebook.
We bet your mind is just whirring with new stories after a trip like that. Now that you've finished with your Highland Talents Heritage Series, what can readers look forward to from you?
 I'm working on a short-story collection that will let readers spend some more time with secondary characters they met in my series, or that shed more light on how my heroes and heroines got to where they are when readers met them in my previously-published novels. I'm also toying with some ideas based on my travels.
 One is spun-off from one of my personal favorite books, HIS HIGHLAND BRIDE. If readers are familiar with it, then they know that the hero Cameron Sutherland has older twin brothers. Those two have been teasing me with ideas for their stories since I finished Cameron and Mary Rose's book, so my visit to Golspie, Dornoch and Dunrobin castle will help add depth and dimension to their stories. On the way there, we passed near Dingwall, mentioned in HIS HIGHLAND LOVE in relation to the Lord of the Isles' attempted land-grab of Ross territory in the early 1400s. It was fun to see it, even if from a distance and 600 years later. I might find a way to include it in a new story, too.
 I'm going back to Scotland in a few weeks for more research. I'll revisit Orkney, spending more time in Kirkwall than I did on the last trip (though time spent at Skara Brae is never wasted!), and make a first stop on Shetland and on Harris. Those are fertile ground in Scottish Highlands and Islands history and of course Viking history, so my "Story Ideas" folder can only get thicker! I'm also looking at another trip to Ireland in the next year or two, so the Emerald Isle may tie in as well, or spark a completely separate series based there.
Willa Blair is an award-wining Amazon and Barnes & Noble #1 bestselling author of Scottish historical, light paranormal and contemporary romance filled with men in kilts, psi talents, and plenty of spice. Her books have won numerous accolades, including the Marlene, the Merritt, National Readers' Choice Award Finalist, Reader's Crown finalist, InD'Tale Magazine's RONE Award Honorable Mention, and NightOwl Reviews Top Picks. She loves scouting new settings for books, and thinks being an author is the best job she's ever had. 
If you want to keep in touch, you can find her at
Her website, Facebook, Twitter (X), Goodreads, Instagram, Amazon, and Bookbub.
And stay in the know by signing up for her newsletter.