Afternoon Readers!
We finally made it: the last match of round 1! You've done a lot in the last two weeks. You went to the beach. You organized your bookshelves (a monstrous task, surely). And, best of all, you got a chance to read three books from three pretty perfect genres. So, what more could you ask for?
Well, we're pretty sure that, after reading all of those books outside in the heat of the summer, you're ready to enjoy some cool and concentrated air conditioning while you sample yet another book from another genre.
Before you reapplied the aloe to your earlobes—the last place you expected to burn, which is probably why you forgot to apply sunscreen there—you looked through your bookshelves and decided you were in the mood for either a good Science-Fiction novel or a spooky Paranormal. By the time you were done with the aloe though, you knew what your heart wanted: to dive deep into the pages of that Paranormal you've been eying.
And which one is that? Well, these are the top five in our pile.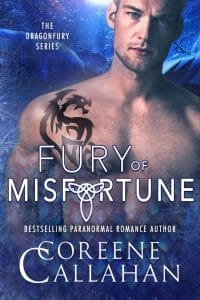 The book on the top of our pile is Fury of Misfortune by Coreene Callahan, and it's there because it just came out this week! If you've been keeping up with the Dragonfury books, you've been waiting diligently for this release, and so you may have already snagged it. If you haven't, it's the seventh in Callahan's Dragonfury Scotland series and centers around Levin, a Scottish dragon-shifter who is questioning his place in the pack, as well as his own integrity as a warrior, and Priya, an investigative reporter who is close to bringing down sinister forces. If you want to start from the beginning of this series, just to make sure you don't miss anything, then you can grab Fury of a Highland Dragon instead.
The second book in the stack is Sinister Summer by Colleen Gleason. This one is for those of you who are looking for something a little more on the spooky-yet-cozy mystery side of Paranormal. Diana Iverson is a woman who needs a break from her fast-paced life when she finds out she's been left a lake house by her eccentric late aunt. She leaves for Wick's Hollow expecting to have a little peace and quiet, but what she gets instead are ghosts, murders, and even a little romance.
Next up is Love Sucks by Cynthia St. Aubin. This is the second in her Tails from the Alpha Art Gallery series and it's quite the wild ride. Our girl Hannah is finally coming to terms with the fact that she's now working for an art gallery full of werewolves, but that doesn't stop her art-history-loving heart from losing it when she's introduced to Vincent Van Gogh, the newest artist of the pack. He's insistent that someone is killing werewolves, and is seeking protection from hunk Mark Abernathy. Will they all get out of this book alive? You'll have to read it and see. And if you've been sleeping on this series, what are you even doing? The first novel is Love Bites, which you might want to grab before you check out this one.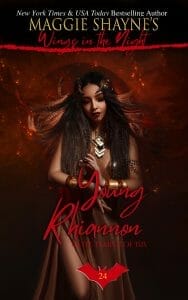 Young Rhiannon in the Temple of Isis by Maggie Shayne would be another great choice, especially if you're in the mood for vampires. Rhiannon has been stealing the show in every single book that she's appeared in, so this is a well-earned origin story for the most wicked vampire in all of the Wings in the Night books. She was born to a divine queen of Egypt, who died during childbirth, when the pyramids were young, and the walls of the palace literally trembled when she was taken, wailing, from her mother's cold, dead arms. Is that the air conditioning or are there chills running down our spines?
Finally, the last book in our stack is Search for the Mystic Stone by J. G. Sauer. This one follows a ragtag squad of misfits, each with their own paranormal gift, as they search for ancient and mystical artifacts. But these aren't just any old relics. In some cases, these pieces have the potential to change or destroy life as we know it, especially in the wrong hands. This time, they're tasked with retrieving the Mystic Stone, which has indeed fallen into the wrong kind of hands.
Let us know in the comments which one of these you might be picking up. And, just to give you a heads up, we won't be doing another one of these until the finale of the Summer Showdown, where we'll be giving you even more great recommendations for the genre that is voted the best for summer reads.