Welcome back, readers!
Today is the day. You glance over at the hammock you longed for the other day and notice that it's dry and perfectly sun-kissed so as to give you that peak summer warmth without burning you. It's sunny, but not so bright your eyes are going to scream at you for attempting to be outside staring at something white, and there's the slightest of breezes to keep you cool.
You finished your Mystery, so you scan the shelves for something new. You toy with the idea of something fantastical, but no, you know exactly what is going to fit the bill: Historical Romance. You're ready to be transported from your hammock back through time and to fall head over hills for and with your hero and heroine.
But what Historical Romance will it be? Here are some suggestions we have on our shelves.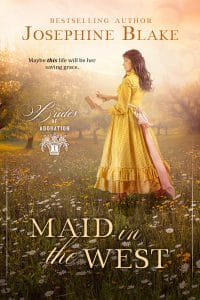 First up we're traveling out to the Wild West with Josephine Blake as our guide in Maid in the West. This one is perfect for those of you who prefer stories on the sweeter side of things. It follows Elise Miller, an impulsive hotel maid who wants a fresh start away from the hardships she endures in her daily life. She hops aboard a train to achieve just that, but starts to second-guess her actions immediately. As she gets to the next town over and is about to head back home, she's mistaken for a mail-order bride. On a whim, she changes her mind yet again and decides to take what fate has handed her and she trades in her identity for a chance at a better life.
If you're looking to lose yourself in the hills of the Scottish Highlands instead, you might want to check out Knight in Highland Armor by Amy Jarecki. After being left a widower just after the birth of his son, Lord Colin Campbell swears that he will never fall in love again. The pain is just too great to bear. So, he pens a petition to his majesty to ask for help in finding a stepmother, someone who will care for his son, but nothing else. His needs are met when the king sends for feisty, quick-tongued Margaret Robinson. Upon learning her fate, Margaret is horrified at the thought of marrying the notorious Black Knight and is convinced that her life may as well be over. Is life as bleak as each one assumes? You can find out for free if you snag yourself a copy of the ebook by 7/21!
Next is Odds on the Rake by Sofie Darling. Gemma is the daughter of an earl—born on the wrong side of the blanket. To escape her abusive father, she masquerades as a stableboy and realizes quickly she isn't only spying on the best horseracing stable in England, but also the most magnificent duke in the land. The Duke of Rakesley wants a duchess who will fit into his well-ordered life without fuss, but when Gemma comes along and plays havoc with his idea of the future—he can't help wanting to get closer to all of her beautiful chaos.
If you haven't found what you're looking for yet Love on the Line by Anabelle Bryant might just be perfect. In the hedonistic world of Vauxhall Gardens, a place where London's aristocracy pursues daring entertainment and sensual pleasures, desire overrules status, prejudice, and societal censure. When Lola York meets Theodore Coventry, Earl of Essex, their chemistry is undeniable, but she knows better than to yearn for forbidden love. That is, until their involvement becomes unavoidable and Lola realizes the most dangerous risk of all is the one that threatens her heart.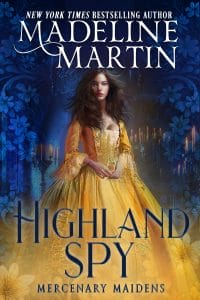 Finally, if you're looking for something with a little more suspense, Highland Spy by Madeline Martin is just that book. One mustn't mistake Connor Grant when he says he's looking for a particular kind of woman…He's not in want of a wife. No, he leads a team of female spies and he's in the market for a lady who can not only quickly master an intricate set of skills, she must also be willing to do whatever it takes to succeed in the name of the Crown. As soon as he meets her, he knows Ariana Fitzroy is the woman he's been looking for… in more ways than just this one.
So, which one will it be? Let us know in the comments!