Hello there Dear Reader,
Long time no see! We finally succumbed to the dangers of our teetering TBR and were, of course, forced to read ourselves out. And, do you know what we thought about while we were making our way through? Genres! You know them, you love them, you steer clear of some and smoosh together others. They are a huge part of how we choose what book we want to read next and we all have a favorite…even if you claim not to. So, what we're curious about, since it's apparently halfway through summer already, is what genre reigns supreme for you during your summer shenanigans? When you're heading out to sit on the beach or relax in your backyard, or escaping the heat in your favorite reading nook, what are you reaching for?
So, we're hosting a Summer Showdown to hear from all of you lovely readers out there. We'll be putting out polls nearly every weekday for the next few weeks, so make sure to follow us on Instagram and Facebook so that you can vote for your favorite genre! And then, you can tune back here to the blog every week to see who won and to get some of our top picks from the winning genres!
Without further ado, let's meet our contenders for best summer reading genre! We've gathered up some of our favorite genres and, as an extra treat, hand-picked a book out our of our pile from each so that you can go ahead and get your read-on while the voting commences. Keep an eagle out because some of them even have exclusive Barnes and Noble coupons for their ebook!
Historical Romance – If you've been with us since the beginning of OHB, you probably found us through this classic genre. Are you dreaming of a Duke? Fancy being swept off of your feet at a ball? Curious if you have what it takes to single-handedly tear down feuds between clans or estates? Then these books are likely always in your hand or stuffed in your extra-large book-size reticule or satchel.
Love on the Line by Anabelle Bryant – Set in the magical Vauxhall Gardens, when Lola York meets Theodore Coventry, Earl of Essex, their chemistry is undeniable, but she knows better than to yearn for forbidden love. That is, until their involvement becomes unavoidable and Lola realizes the most dangerous risk of all is the one that threatens her heart.
Mystery – For those of you who like whodunits and trying to stay one step in front of the killer or the thief, we know mysteries are the stories that keep you up late at night, swearing you'll read just one more page. You might have a magnifying glass on your keychain or evidence bags in your fanny pack. You've been eyeing a deerstalker hat in hopes that you'll one day be able to pull off rotating it into your wardrobe. And you know what? We are here for it.
A Deadly Game by Carla Simpson – Angus Brodie and Mikaela Forsythe's adventures continue when the man Mikaela was once engaged to seeks her assistance in finding his young runaway son. But, as secrets start to come out and the man is found dead, their investigation grows more perilous as they race to find the missing boy.
Fantasy – Who doesn't want some magic in their life? We know we're certainly looking for something a little more fantastical beyond our piles of dishes and meetings that could have been an email. With witches, magical creatures and far-away worlds, fantasies take you to new and wondrous places without ever needing to leave your home, let alone finally renew your passport.
The Forgotten Prince by Tanya Anne Crosby – Gwendolyn of Cornwall may have come to understand the true meaning of her prophecy, but now she must rise to her destiny and unite Pretania's fractured tribes—a daunting task, when the people have lost hope and the land itself is dying. To save her kingdom, Gwendolyn must assemble her team and journey to sway the druids into allowing her to finally enter the Fae realm and find the key to reignite hope— The Tuatha'an Sword of Light. – Use BNPFORGOTTEN at checkout through Barnes and Noble's site or through Nook to get 25% off your preorder of The Forgotten Prince! If you haven't started the series yet, you can also go through Barnes and Noble or Nook to get the first two ebooks in the series, The Cornish Princess and The Queen's Huntsman as a special BOGO deal to celebrate the upcoming release! Both offers are good through 7/25.
Paranormal – Who doesn't love tales of vampires, werewolves, and everything else that goes bump in the night? There's a reason these stories have been capturing imaginations for decades. With modern roots in stories like Frankenstein and legends that go back even further, paranormal books have shown they're here to stay.
Fatal Phantasm by Maggie Shayne – As the gang head to the private island mansion of a widow looking for help with her dearly departed husband, who might not be so departed. Nothing is as it seems, and soon, they are cut off from civilization with no boat, no phone, and no help on the way, as a hurricane bears down on an island crawling with cultish killers who'll sacrifice anyone who tries to stop them from getting what they want. Immortality. – Use BNPSHWDWN25 at checkout through Barnes and Noble's site or through Nook to get 25% off of the ebook! Good through 8/5.
Contemporary Romance – The staple of sandy beach towels everywhere. Filled with all of your favorite tropes —enemies to lovers, slow burn romance, and more— like a proverbial Pringles can, once you read one you just can't stop. Sure, they might be slightly unrealistic at times, but that's what makes them fun. We wouldn't have them any other way.
Nevermore Bookstore by Kerrigan Byrne and Cynthia At. Aubin – Cadence "Cady" Bloomquist knows two things for sure: First, shelving books at her shop, Nevermore Bookstore, totally counts as cardio. Second, staying late every Thursday night to take a certain mysterious customer's order is not the same as waiting by the phone for some man. Until the calls with the man who identifies himself only as "Fox" become the highlight of her week. Which leaves her to wonder, what sort of alchemy might inspire if they met in person?
Romantic Suspense – Global conspiracies, non-stop action, explosions, need we go on? The original summer blockbuster (and the inspiration behind a few of those shining on the silver screen as well). These are books that demand to be read in one sitting, with action that starts on page one and doesn't stop til the end.
Master of Lies by Shannon McKenna – She thinks he killed her brother. He's trying to clear his name and save his friend in the process. Now they're on the run together, one step ahead of total mayhem. But chemistry that's boiled beneath the surface for years is threatening to make an already dangerous situation an even more complicated one.
Women's Fiction – A complex and wide-ranging genre, filled with complicated emotions, suburban intrigue, and so much more. Like its Contemporary Romance counterpart, this is one of the original staples of the summer beach read, and for good reason. With stories that are emotionally complex and with more layers than that bean dip set out on your patio, they're sure to draw you in.
Because of You by Karen Foley – In the charming coastal town of Bittersweet Harbor, there are the Haves and the Have-Nots, and Savannah Belshaw has become accustomed to not having. Six years ago, she fell overboard during a sunset party cruise and was rescued by the town's golden boy, Jed Lawson. But when Jed comes back to town Savannah's plans become a lot more complicated. – Use BNPSHWDWN25 at checkout through Barnes and Noble's site or through Nook to get 25% off of the ebook! Good through 8/5.
Sci-Fi – This one might seem a little far out, but that's why we like it. With time travel, rogue assassins, and journeys to far-flung worlds, the adventure never stops in science fiction.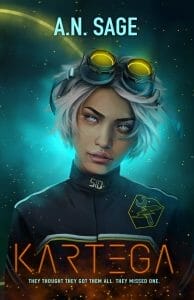 Kartega by A. N. Sage – Sid, a gifted mechanic, has spent her life playing doctor to an ailing ship thousands of miles above her home. She wants nothing more than to find a place amongst her people. But when Sid's wish is granted by a catastrophic failure that sends her hurtling into the wild jungle of the star below, she realizes Neostar isn't as perfect as she'd originally believed. – Use BNPSHWDWN25 at checkout through Barnes and Noble's site or through Nook to get 25% off of the ebook! Good through 8/5.
Voting starts tomorrow, so remember to follow us on Instagram and Facebook and get ready to help us find out which genre tops all for the summer! And, please, we'd love to hear which one you think will win! Leave your predictions down in the comments!