Maggie Shayne here. I'm the author of 107 titles that include romantic thrillers, small-town contemporary, and lots of paranormal romance. I'm best known for my 24-book Wings in the Night series of vampire romances that began before there was such a thing as vampire romance and continue to this day with YOUNG RHIANNON IN THE TEMPLE OF ISIS, on sale now.
For this character interview, I invited Rhiannon, the star of the series and of this new novel and the single greatest character I have ever created—
Rhiannon: Created?
Maggie: Sorry. Channeled, I guess. Still, she is very real to me, the most real of any of the characters in my stories. So, as you can see, I invited Rhiannon to join me in this lovely gothic parlor of black and brick and red velvet. We have a fireplace crackling, and it's dark outside, beyond the red velvet drapes. I have a hot coffee in a delicate bone china cup with gold edging. Rhiannon has a wine glass with something red inside that I'm not going to look at too closely.
She is tall, lean, strong, with long legs and long arms, long neck and long fingers, and long hair of raven black. She sometimes wears bangs across her forehead, but at the moment she has let them grown out as long as the rest. She's wearing a black dress with a slit up to her hip, and blood-red stilettos. Her toenails and dagger-sharp fingernails are the exact same shade. So's her lipstick, I notice.
She is stunning.
R: Thank you.
M: To begin, Rhiannon, why don't you tell the readers who you are?
R: I am Rhianikki, firstborn of Pharaoh, Princess of Egypt. I am immortal, and a Goddess among women, for Isis lives in me. I am eternal and craved by men, for I am like no other. I am a vampire and the undisputed queen of the undead.
M: You done?
R: (Crooks an eyebrow while stroking her black panther, Pandora, who is lying in front of the settee where we are sitting.)
M: And tell them where you fit in the Wings in the Night series.
R: I am the Wings in the Night series.
M: You know what I mean.
R: As I recall, dear author, you discovered me when attempting to find a villain for Book Two.
M:  (Lowers head, looking guilty.)
R: You had intended to pair my Roland with some mewling, mealy-mouthed mortal. It's a good thing you didn't. I'd have destroyed her.
M: I know.
R: But your editors saw me outshining that little mouse on the page. Villain, indeed. They knew a heroine when they saw one.
Maggie: The heroine.
Rhiannon: (Sniffs indignantly.) And so I became the heroine of Book 2, TWILIGHT MEMORIES, and then I appeared in many of the other titles.
M: You didn't give me a choice about that.
R: Why would I give you a choice?
M: (Muttering) Just shows up when I'm writing a scene. Just walks in and takes over.
R: I finally got another novel of my own with THE RHIANNON CHRONICLES, which is Book…?
M: Twenty-two.
R: Yes. That story took us forward in the series chronology. But now, in this next one, YOUNG RHIANNON IN THE TEMPLE OF ISIS, I take you on a journey back to my childhood in Ancient Egypt.
M: It's a wonderful addition to the Wings in the Night cannon.
R: I imagine you learned things about me that even you did not yet know.
Maggie: I did! I finally got to see the very beginnings of your practice of magic. I never fully understood the power of your bond to Isis before this book, either, nor was I fully aware that you had manifested powers before you left your father's palace, before you were either a priestess, or a vampire.
Rhiannon: (Picks up a copy of her newest book, and gazes at her likeness on the cover.) This… (dramatic pause) …is my origin story. Many of your questions about me will be answered within its pages.
M: The question any interviewer would ask you next is one I don't need to ask, because I already know the answer is, "until they pry your cold, dead fingers from the keyboard." But for the readers, I'll ask anyway. Will there be more books about you?
R: (Tries not to smile, then smiles anyway, then laughs softly, then lets her head fall back against the black fabric of the settee and laughs harder. It's a deep, rich sound, honey smooth and melodic, with a different resonance than a human voice. The song of the vampire is lusher, more layered, and more perfect.) I have millennia of living to share, lifetimes upon lifetimes. Which one would you most like to know about next?
M: The one where you met Roland, the first-time, I mean.
R: Mmm, in a year with only three digits, in a time you call medieval. He was a knight, you know.
M: I know. I want to know the rest.
Rhiannon: Then I'll tell you.
Maggie: (Blinks out of her state of mesmerized anticipation and remembers there are others in the room; our readers, our audience, you all reading this right now. Have a cookie, or some Type O.) I can hardly wait to hear it, Rhiannon. But in the meantime, dear readers, those of you who've read the entire Wings in the Night saga and those of you who have not even begun the first word of the first book: now is the time to read the series star's origin story:
YOUNG RHIANNON IN THE TEMPLE OF ISIS
On sale now!
PS: This is a paranormal novel set in ancient Egypt. It is entirely self-contained, as it takes place before any of the other books in the Wings in the Night series, so it's a beautiful place to begin.
I think Rhiannon will weave her spell around you, just as she has done to me.
READ AN EXCERPT: https://www.maggieshayne.com/post/young-rhiannon-in-the-temple-of-isis-part-1
BUY THE BOOK:
https://maggieshayne.com/young-rhiannon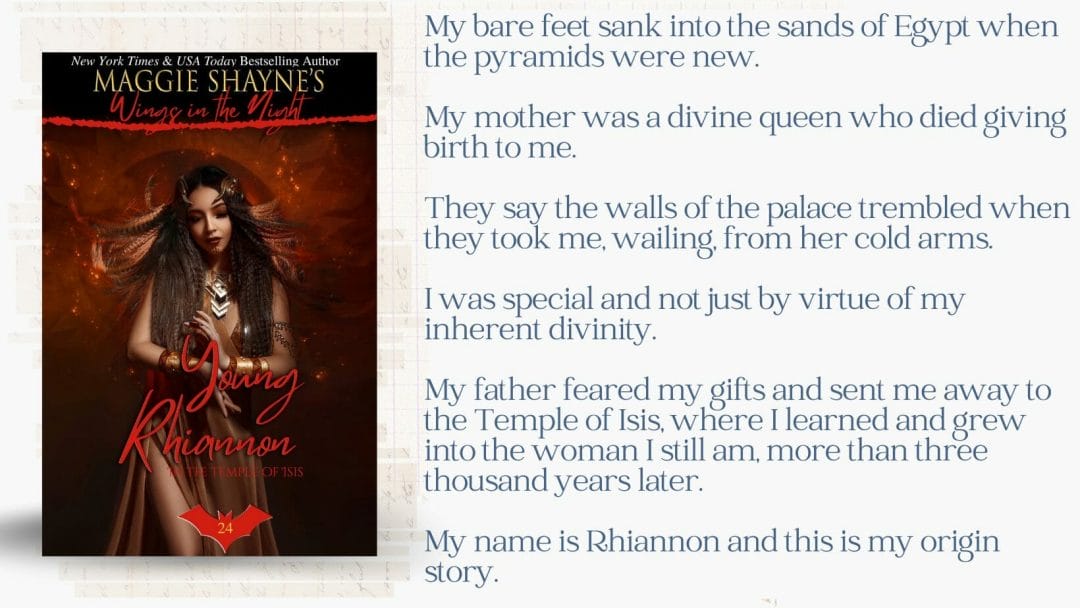 I'm Maggie Shayne.
I was born a storyteller, and I will cross to the other side a storyteller, and when I get there, I'll haunt some young writer who's still on earth by whispering my stories into her ears, because I'll still be a storyteller. I think that's what our muses are. Storytellers gone by. I am so incredibly blessed, because I got a really good one. I love her.
My stories are Paranormal Romances like my groundbreaking Wings in the Night vampire romance series, (the original "Twilight" vampire novels) and my wildly popular Fatal Series, (rom-com ghost mysteries with a Scooby gang you'll want to join.) I've also penned two epic witch series, The Immortals and The Portal trilogy, along with fantasy romance quartet By Magic
My stories are also small town contemporary romances all about family, loyalty and love, like The Texas Brand Series, The Oklahoma Brands, and The McIntyre Men.
I have spun Romantic Thrillers like my career-best Brown & de Luca series, The Mordecai Young Series, The Secrets of Shadow Falls, Shattered Sisters.
All info about my books and my CoffeeHouse blog are at MaggieShayne.com
I also write spiritual self-help books. I blog and teach about natural magic, the law of attraction. I offer personal readings, and I have a little magic shop. You can find all of that at BlissBlog.org
I love who I am, what I do, and everything about my life. I especially love my readers, because, let's face it, storytelling would be pretty pointless without them. You. I love knowing you as much as possible, via Instagram, Facebook, Twitter, my newsletter and my blogs. You can also follow me on BookBub.
So pick a story, any story, and then curl up in a comfy chair, and wrap your softest blanket around your shoulders. Fill your favorite mug with your favorite warm beverage and fall into my worlds for a little while. I think you're gonna like it here.
Blissfully,
Maggie Shayne,
Storyteller