Hello Readers! We're so thrilled to have the one and only Cynthia Wright here as a guest on the blog today. Cynthia is celebrating the release of her book, Her Secret Rogue, the latest in her St. Briac Family series.
Now Cynthia, you just celebrated something else recently, didn't you?
I did! My first book, Caroline, was published by Ballantine Books 45 years ago, in December 1977. It's hard to believe that so many years have passed! Since then, Caroline has been reprinted many times and is now titled Rescued by a rogue.
Well, I think we speak for everyone reading this right now when we say, "Congratulations!" What a special milestone to hit, especially after taking some time away from writing and rediscovering your love for it in the last decade or so. What's it been like to revisit so many of your old characters and reconnect with readers?
I've had a lot of fun weaving my past books that feature the Raveneau and Beauvisage families with new ones written since I returned to my keyboard in 2011. During my 20 years writing for Ballantine Books, there was no internet (which seems a little crazy now!) and I could only connect with readers via letters forwarded through my publisher and at autograph parties at bookstores. It's so much fun to be able to chat with readers now on Facebook and through my newsletters. As for my characters, it sometimes feels as if they truly do have lives of their own, that they have continued to carry on off-stage.
As a writer, was it hard to find your footing again with characters like André and Devon, that you hadn't written in a while, or was it more like seeing old friends again? Were there any surprises as to where they were in life? (You don't have to spoil anything)
Yes, they are like old friends to me – and to my readers as well, or so they tell me. The one surprise that comes to mind first occurred when I wrote Smuggler's Moon in 2013 and I unearthed a secret that André had kept from Devon (and me!) for over 30 years.
Without giving away too much, was it always your plan to weave them into Her Secret Rogue, or was it a happy accident?
I didn't plan ahead of time to weave them in quite so much, but as the plot unfolded – featuring their grandson Anthony St. Briac as the hero – it happened very naturally. Readers are telling me they love catching up with the rest of the family.
Now, as you just mentioned, Her Secret Rogue actually centers around Anthony St. Briac and Frederica Redfield. Can you tell us a little about them? Why are we rooting for them?
Anthony has appeared in the two previous books in this series – first as a boy of 9 in His Make-Believe Bride, and then as a handsome, dashing Cambridge University student in Her Impossible Husband. Because of his rather turbulent upbringing, he uses his easy charm to hold love at arm's length. Frederica, meanwhile, has trust issues of her own. Her widowed father, who is deeply in debt, tries to force her to marry a wealthy man for his own gain – but Freddie will not be manipulated. She has serious aspirations of her own, and a secret crush on Anthony St. Briac. Anthony has gone missing on a voyage with Charles Darwin, so his family hires Freddie – disguised as a male professor – to stay in his empty house, cataloguing his natural history specimens. What none of them count on is Anthony himself, returning from his presumed grave.
Natural History is a thread woven throughout this series, correct? Is that a personal interest of yours? If not, what made you choose it?
I discovered while doing research for this series that natural history was really trending during the 19th century, and women were involved in some huge discoveries. A woman named Mary Anning discovered fossils of entire ancient creatures that challenged the idea that the world was only 6,000 years old. Fresh out of university, Charles Darwin made his life-changing voyage on the H.M.S. Beagle to the Galapagos Islands, among other exotic locales. John James Audubon was discovering new species of birds. Charles Lyell was putting forth new theories about the geological history of the earth. I have become more immersed as I've done more research and I love sharing it all with readers.
You're great at anchoring these books in history through the inclusion of real historical figures. As you've already touched on, this book has Charles Darwin, and Her Impossible Husband had Mary Anning. What's the process look like to bring these naturalist rockstars to life? And how do you choose who to include?
I do a lot of reading, of course, but I also try to visit the locations in my books. I've traveled many times to Cornwall over the years, and last June my husband and I, along with my daughter & her family, spent most of June in England, France, and Italy. It was a thrill to see Mary Anning's amazing fossils (so much bigger than I had dreamed) and also to wander around Mayfair and discover the Raveneau's home in Grosvenor Square and Anthony's house in Charles Street. As for who I include – when a real-life character speaks to me, I can feel it. I usually try to use the historical people to flavor the story with a sense of reality.
It's one thing to read about something and a whole other to see those very artifacts with your own eyes. Was there a fact you learned or something you saw on that trip that really informed the way you interacted with Anthony and Frederica's world?
We spent one amazing day at the Natural History Museum in London, where I not only saw Mary Anning's own fossils but also an exhibit of specimens gathered by Darwin during his expedition on the HMS Beagle. Seeing the small stuffed birds with Darwin's own handwritten tags tied to their legs was a revelation and it definitely made a difference in my story.
Frederica Redfield isn't really a passive observer of her life, is she? When she finds out Anthony has gone missing, she sneaks off and creates a whole new identity as Freddie, a professor in Natural History. Can you tell us a little bit about why? You mentioned it a little before, but what did the sciences look like for women back then?
Freddie's own dream is to work for the British Museum, but that wasn't possible for women in 1836, when Her Secret Rogue is set. That doesn't change her determination. She also wants to be a member of the Geological Society, even though women were not allowed to attend their all-male meetings for many more years. I had fun helping Freddie break some of those barriers, making some of her dreams come true just by dressing her as a male.
Finally, what's next for the St. Briac family? And what's next for you?
I'm working now on Book Four in the St. Briac Family series, starring Camille St. Briac, Anthony's cousin. Camille's father, Gabriel, has an estate on the Cornwall coast with extensive gardens. (Botany was another passion during this time.) Camille has been raised outdoors and has loved birds all her life. From a young age, she's been outraged by the slaughter of birds in order to use their feathers (and sometimes their wings, skins, or entire bodies) on women's hats. In this story, Camille crosses swords with dark, sardonic Benedict Hawke, whom she believes is part of a gang stealing the feathers of kittiwakes – striking gulls who nest in the cliffs near her family home. As for me – I'm loving my life! Writing has never been more fun. My husband and I love spending time with our blended family (including six grandchildren between us). We're lucky that all of them live near us! We still have our corgi, Watson, who is nearly 10. Right now, we're heading off in our airstream trailer for a few days in Carmel. I might even squeeze in a few pages of Camille & Benedict's romance…
That sounds absolutely amazing! We wish you an amazing excursion, and we'll definitely be looking forward to finding out everything that happens with Camille & Benedict! Thank you again, for stopping by!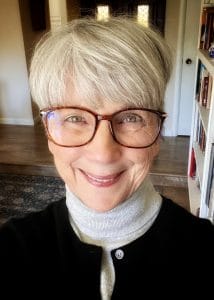 Cynthia Wright is a New York Times and USA Today bestselling author, best known for her Rakes & Rebels series, 13 intertwining historical romances starring the irresistible Raveneau & Beauvisage families. Her other acclaimed series are Crowns & Kilts and Rogues Go West. Romantic Times Magazine hails Cynthia's novels as "Romance the way it was meant to be."
Cynthia lives in northern California. She enjoys riding a tandem bike and taking road trips in an airstream trailer with her Colombian-born husband, Alvaro, & their corgi, Watson. She is also devoted to her two wonderful grandsons who live nearby.
You can find her on her website, BookBub, Facebook, Instagram, and Twitter. And, if you want to get updates emailed right to you, sign up for her newsletter.