Today we're joined by the ever-so-talented Elizabeth Blake! Some of you may know her a little better by another name, Josephine Blake. Well, Elizabeth is Josephine's self-proclaimed twisted alter ego. We're here to talk about A Brush with Death, which was released last month and is her first darker novel under this brand-new pen name. So, let's get to it!
(Oh! But before we forget, stick around to find out how to win your very own copy of A Brush with Death AND a $25 Amazon gift card!)
Welcome back to the blog! We're excited to be the ones to ask the questions this time. Since we didn't get to ask last time, what was it that got you into writing in the first place?
My childhood friends would tell you that I've been writing my entire life. 😊 I used to have them read stories and correct them for me in red ink. I can't hardly pinpoint the reason I started, except that I had so many stories bouncing around in my head, I just had to get them out somehow.
What about with this new pen name? What made you want to switch tracks for a bit, and what exactly can readers expect from Elizabeth Blake that's different from Josephine?
I've actually always been a huge multi-genre reader. I read almost anything I can get my hands on. When I first started self-publishing in 2016, I had already worked as a ghost writer in the sweeter genres for some time and was extremely familiar with them. I still love them and will continue to publish sweet fiction under Josephine Blake. However, I'm a massive enthusiast of horror, gothic fiction, and thrillers, and it was only natural that as my writing has grown and developed, those aspects began leaking through into my work. Readers can expect to see a lot of darker, atmospheric writing, with gothic romance, and tinges of romance and mystery. I'm particularly excited to finish my first thriller, which is already in progress.
You explore the themes of life and death, and the role of fate in our lives a lot in this novel. What inspired you to write about such complicated topics?
Oh dear. I wish I had a solid answer for this, but the truth of the matter is that the story idea popped into my head one day and wouldn't go away. I also plotted very little and just allowed the words to flow, so I was just as surprised as anyone else with what the story grew into.
The last time you were here, you had a Character Interview for us for Dianna of your Brittler Sisters series. She's a spunky heroine, full of life and ready for adventure. Considering everything she's battling, that is a stark contrast to Isabel Vanderton, the heroine of A Brush with Death, right? How different was Isabel to write from Dianna? Does one of them come more naturally to you?
Both of these characters are actually quite similar in disposition. I love a good, stubborn, spunky heroine, and that is definitely the type that comes the most naturally for me to write. My current Work in Progress has presented a fun challenge with a huge character arc that will take a rather compliant heroine and turn her into a firecracker. I'm greatly enjoying it.
What about Death? What inspired you to write a story with Death as not just a character, but also this looming potential romantic interest?
Well, I've often be fascinated with the idea of personifying mythological things that supposedly effect humanity in everyday life. Time, Death, Fate, Destiny, Love. And… once you personify something… it follows naturally that it could develop human feelings. It was incredibly fun to write about something that had never felt anything before learning to feel things in the broad spectrum that humanity does.
Every so often, you hear of authors who have to make a playlist for a certain character or wear a certain outfit, little things that help them get into the mindset of a particular character. Did you have any little habits you had to keep in order to get in the headspace to write Death?
Not really. I've been lucky in that I can write anywhere I have my laptop most of the time. My favorite place to write is actually on my treadmill, these days. I also love to write with a giant mug of hot tea at my desk. I did have a song that I liked for this one though. It was Whispers in the Dark, by Skillet. Strangely, it doesn't take much to help me slip into the mindset of my characters. They do their own thing 90% of the time, with mild help from me.
A little birdy told us that you're a big fan of Crimson Peak. (Great movie!) If you had to choose your top 5 Gothic stories (books and movies), what would they be? And did they influence A Brush with Death at all?
OH, MY WORD. I am literally re-watching Crimson Peak as I answer these Q's. Del Toro is my favorite director, and this movie has the creepiest gothic romance vibes. The MANSION. THE COLORS. IT'S AMAZING. Okay, I'm done ranting. I loved Jane Eyre and Wuthering Heights. MAMA (Another Del Toro film) literally creeped me out so much I couldn't sleep the first time I saw it and I adore it (not so gothic, but definitely one of my favorite horrors.) Sleepy Hollow. I love that one. And the vibes and the atmosphere of gothic films and novels totally influenced the atmosphere I attempted to create in A Brush with Death, not to mention the general creepiness of my own brain… shhh. Don't tell anyone.
Are there any other stories or legends that you incorporated into (or helped inspire) Death and Isabel's story?
The Greek mythology of Hades was definitely interwoven a bit through this story.
Speaking of legends, the infamous Jack the Ripper graces the pages of A Brush with Death. Tell us a little bit about what it was like to write him into the story? Did you do a lot of research on him?
Oh, there were days upon days that all I did was research. I pulled up tons of sites on the case files, conspiracy theories. All sorts.
What did you do the most research on?
Jack the Ripper's Victims, but I also did a good amount of location and property research during the first round of edits. I had the pleasure of looking at some amazing old English properties.
What was your favorite part about writing this book, and this series?
I loved creating an atmosphere and story that I would be excited to read myself. As an avid writer, some of the best advice I was ever given was: "If you can't find the book you want to read, write it."
And lastly, there's another book in this series coming, A Twist of Fortune. Are they connected at all? What can readers look forward to?
These stories are connected in minor ways. Most of the stories in this series are stand alone tales that can be read in any order, but each has careful details that are relevant to the other books in the set. It's been an amazing amount of fun to interweave them all.
We don't know about you all, but we seriously can't wait to read the rest of the series! We'd love to hear from you in the comments, so please drop by and say hi! Let us know if you've read A Brush with Death yet, or what your own top 5 Gothic stories are!
And before you go, head on over and put your name in for a chance to win a SIGNED copy of A Brush with Death AND a $25 Amazon gift card!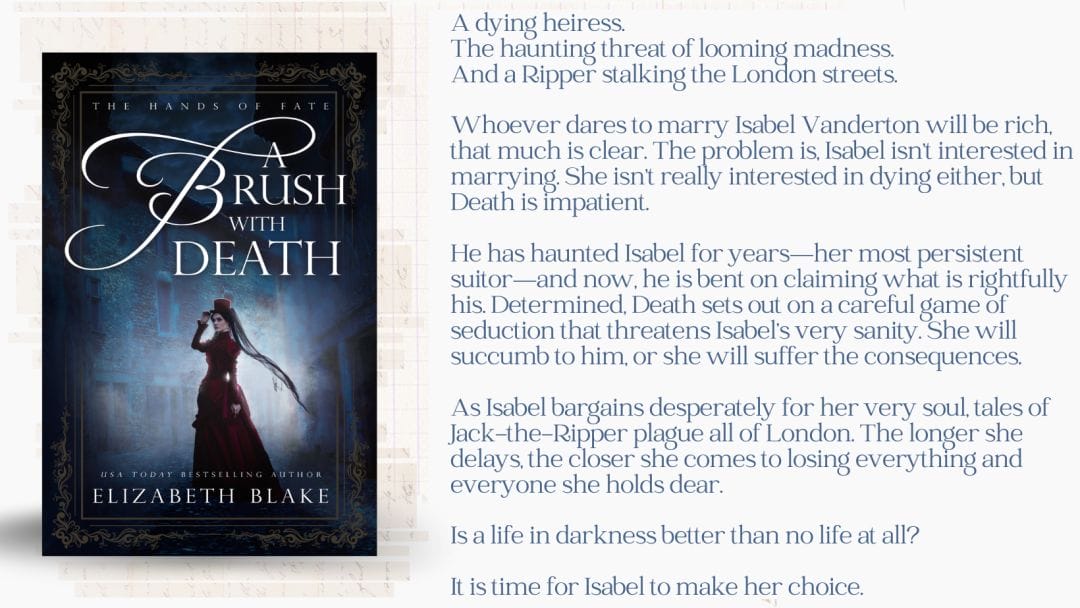 Josephine Elizabeth Blake is a USA Today Bestselling Author and an Award-Winning Graphic Designer. She enjoys a quiet life on a comfortable piece of property in a small-town in the Willamette Valley. A lover of all genres from a young age, Josephine began her publishing journey by penning over twenty books in the sweet romance categories. After being signed by her publisher in 2021, they re-released the first of her "darker" books under her middle name, Elizabeth, who has since grown into Josephine's twisted alter-ego.
Your content goes here. Edit or remove this text inline or in the module Content settings. You can also style every aspect of this content in the module Design settings and even apply custom CSS to this text in the module Advanced settings.