We're once again joined by the wonderful Kari Lee Harmon, writer of everything from Contemporary Romances and Women's Fiction, to quirky Cozy Mysteries and Romantic Suspense. The book we're here to talk about today, Dangerous Thaw, is the last of those and the third in her Coldwater Cove series. Oh, and if you stick around until the end, you might just find out how to win yourself a free signed copy of Dangerous Thaw!
So, Kari, in this series, the world keeps on spinning between each book and we get to see Coldwater Cove in several different seasons, from a variety of different perspectives. How much time has elapsed between this book and Frozen Waters? And what has that time looked like for the town?
I love writing my books in the northeast because of the seasons. I like creating a town that becomes its own character, with many different sides to it. Frozen Waters takes place in winter where a nor'easter turns into a blizzard. So Dangerous Thaw is the following spring, about 3 or 4 months later, when the snow begins to melt. The town is dealing with fixing the damage from the storm, when a dead body floats into The Cove.
Even though this book centers around a new couple, we still get to see so many of the friendly faces we've grown to love over the last few books, sprinkled throughout the story. Without giving too much away, who do you think readers will be the most excited to catch up with this time around?
The series starts with Stacy Buchanan, whose mother used to be mayor years ago before she was murdered. Her vision was to clean up Coldwater Cove and make it a place to be proud of. Stacy and her best friend Laura Flemming, who's the new mayor, have vowed to carry on Elizabeth Buchanan's mission. With each book, that mission is accomplished a little more. So it's always nice to see what the Buchanans and Flemmings are up to.
We also have quite a few new characters arriving in Coldwater Cove as well. Is there a particular character, besides the main characters, that you are personally excited for readers to get to know? Can you tell us anything about them?
I really like the new deputy, Zoe Granger, as well as the new realtor, Tia Johnson. I'm all for my heroine having a group of besties who have her back. I love the growing relationships Medical Examiner Olivia Jones develops with Stacy, Laura, Zoe, and Tia.
Both of the main characters in Dangerous Thaw have pretty dark moments in their past that they have to keep secret from the rest of the town. How was that to write? What are the challenges in juggling who knows what about a certain character?
With my cozy mysteries, it's all about the suspects, clues, and red herrings. It's light and fun and mysterious. I love that I can go dark and edgy with this suspense series. It has such a different vibe. I still have suspects, clues, and red herrings, but my heroine is in danger and the suspense is at a much higher level. With this third book in particular, I had a few threads I had to get right for the whole thing to work. That was difficult making sure I didn't give anything away, yet making sure I still planted clues as to what was going on. I LOVE how this book turned out!
How do you think you'd do having to keep such a big secret? Could you keep it?
A lot of people I know have a hard time keeping a secret. That's the one thing I am very good at. If someone asks me not to say something, then I don't. But I've never had a secret I had to keep for myself. I feel like I would need to tell someone, and I know exactly who I would tell. My own personal besties, Barbara Witek and Danielle LaBue.
Olivia, one of the main characters of the novel, is a coroner. What kind of research did you do for that? Are there any big rabbit holes that you fell down while researching?
I never realized there was a difference between a coroner and a medical examiner. Coroners are not professionally trained in medicine. Medical examiners, on the other hand, are board-certified trained physicians. The coroner investigates the crime scene to determine why the person died, while the medical examiner determines the cause of death from a medical standpoint. The medical examiner is the only one who can perform an autopsy. Olivia is actually a certified Medical Examiner, but the town only has the budget for a coroner.
Are there any really cool facts you found that you didn't get a chance to fit into the book?
I fell down the rabbit hole learning about all the ways to identify a body and how long some of them take to come in. Also, an initial autopsy report can be done in 24-48 hours, but it can take 4-6 weeks for the full report to be finished. I think all the cool things I found I used, but there are always so many things more that could be added. Sometimes I slip into info dumps as I'm writing, but my critique partners Barb and Danielle always catch those spots, thank goodness.
Do you ever have characters that start out as completely different people, and no matter how hard you try, they insist on doing their own thing? Without really spoiling anything, were there any of those in Dangerous Thaw?
My characters don't often change in how I envision them, however, my plot does. I often start out with a certain killer in mind, but then someone else less obvious, who would be perfect, becomes the real killer in the end. I also sometimes add suspects as they present themselves in the book, even if they weren't initially intended to be persons of interest. I made the mistake years ago, as a newbie, to only have one non-suspicious person (other than the main characters) who was in the book here and there. Savvy readers knew right away my suspects were too obvious and my non-suspicious person had to be the killer. Now I make sure to have at least 3 non-suspicious people to keep my savvy readers guessing.
Festivals often feature in your books, and Dangerous Thaw is no exception. What is it about them that really attracts you as a writer?
It goes back to the seasons. Since most all of my books, no matter the genre, take place in the northeast, they all have four seasons. Every season in the northeast has festivals, and with so many books in a series, using festivals keeps the books fresh and different. Great scene ideas pop up during festivals, especially when murder is involved. It also helps keep me from getting bored. 😉
And lastly, just for fun, if you could plan your own festival, what would it be for? And what would it be like?
Well, since I live near the Finger Lakes, love wine, and Fall is my favorite season, I would have a wine festival, with proceeds going to help animals. I would have fun ways to learn all about how to grow grapes, when to harvest them, how to make wine, how it's stored, and what to pair different wines with. And, of course, there would be games, prizes, music, dancing, tastings, and pairings.
This has been so much fun. Thanks for having me, and I hope you'll check out my Coldwater Cove series.
But don't look away yet, readers! If you've read this far, then you've made it to the giveaway! Leave Kari a comment down below and you'll automatically be entered to win a signed copy of Dangerous Thaw! This time you have until our next Writerly Wednesday is posted, so get those comments in by 11:59 am (EST) on 1/25!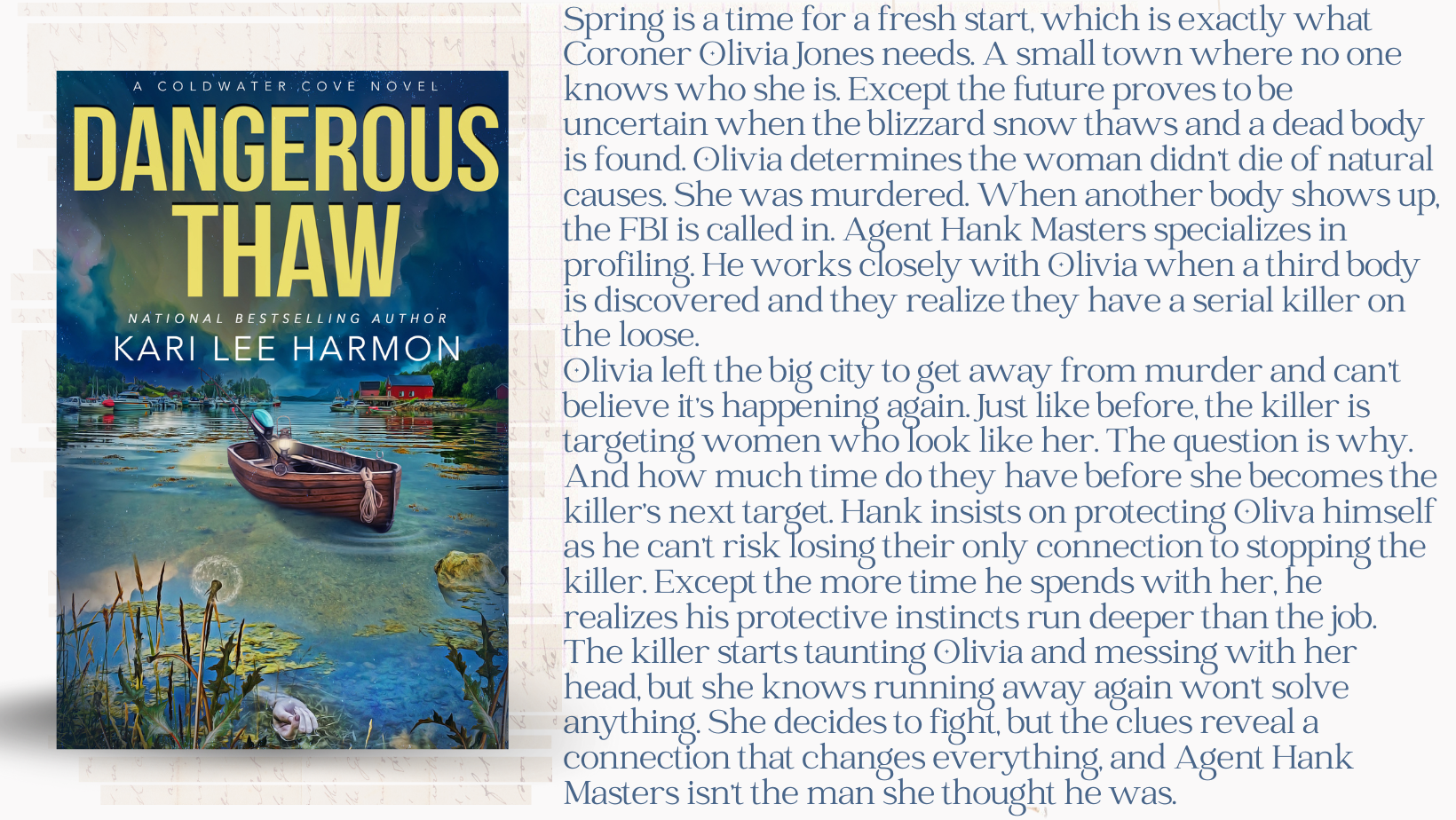 Kari Lee Townsend is a National Bestselling Author of mysteries & a tween superhero series. She also writes romance and women's fiction as Kari Lee Harmon. With a background in English education, she's now a full-time writer, wife to her own superhero, mom of three sons, one darling diva, one daughter-in-law & two lovable fur babies. These days you'll find her walking her dogs or hard at work on her next story, living a blessed life.
You can find her at her website,  on Instagram,  on Twitter here and here, on Facebook here and here, and yes, even on TikTok!