We're so excited to have the one and only Gayle Callen with us today! A writer of Historical Romances, Callen dabbles in a variety of time periods, from Medievals to World War II. She also writes more Contemporary Romances under the pseudonym Emma Cane. A Second Chance in Valentine Valley, the book we'll be talking about today, is one of those.
So, to get started, what should readers expect from an Emma Cane novel that might be different from a Gayle Callen novel?
A Gayle novel is steeped in history—an Emma novel isn't. But I do a lot of research for every book I write, even a contemporary romance. For instance, this book is set in the Colorado mountains, and in the past, I've dived into research about ranch life, pastry chefs, the Marines—you name it! And since my son lives nearby, I've asked his wife and him for all kinds of help. That was a perk for me.
What do you enjoy most about writing Contemporaries?
Cellphones. Haha. Technology, modern times. After so many years of historicals, I really enjoy changing things up by writing about people living now. My daughters say these books "sound" the most like me.
What about with this book?
Steph Brissette was sixteen years old in the first Valentine Valley book, a bratty teenager who had to learn to love the big sister she didn't know she had. Throughout the series, she grew older and older, appearing in her brothers' and friends' books. I thought it was time she had her own story.
With Historical Romances, you have to do so much research to really set the stage. How does that process differ for Contemporary Romances? What did the research look like for A Second Chance in Valentine Valley?
I give readers some Colorado history by bringing in the nineteenth-century Chinese immigrant experience in this book, via a historic one-room schoolhouse Steph, Jeremy Chen, and the famous Widows are trying to save. Lots of books and websites to dive into.
Do you have a favorite fact you learned that didn't make it into the book? If not, one that did?
When I wrote Steph's sister Emily's book, a Town Called Valentine, I did a lot of baking research as Emily opened the bakery. I had no idea how tricky it is to bake at high altitudes. My daughter-in-law, who loves to bake in the mountains, gave me all kinds of tips.
Did you have a favorite character to write for?
The Widows! They're three elderly ladies who live together in a home they call the Widows' Boardinghouse. They always play a part in every Valentine Valley book, usually in a very over-the-top plot line!
Did any challenge you in ways you weren't expecting?
I've never written a widowed main character in my contemporary books—especially someone only in her 20s. I worked hard to gently handle her lingering grief while also having her begin to realize she could love again.
Were any of them inspired by real people in your life or otherwise?
As I flesh out a character, they really become like real people to me, rather than being inspired by someone real.
Likewise, what about the historic schoolhouse?  Its salvation is such a big part of Steph's story. What inspired this storyline?
I was looking for a plotline that the Widows could be involved in, that would also keep Steph and Jeremy thrown together as they worked on it.  The Widows always save historic buildings, and one of my critique partners gave me the idea of a one-room schoolhouse. I also wanted to link Jeremy's ancestors with it, which gave a busy young man a reason to be hanging out with the Widows. Voila, his great-grandmother became a teacher, which is how I started researching the Chinese immigrant experience in Colorado. It's cool that I can explore other cultures in my contemporary novels in a way that was hard to do in medieval or Victorian England (where I set so many of my Gayle Callen books).
And the Sugar and Spice Bakery; that name immediately makes you want to nip in to snag a few pastries. Has baking ever been a passion for you? Would you fit right in in the kitchen?
I love to bake! I don't enjoy day-to-day cooking all that much, but I always volunteer when a dessert is required. It's a tradition that I bake a lot of cookies at Christmas and give them away to neighbors and friends. Sometimes I've made 13 different kinds of cookies! This year I'll be able to frost cut-out cookies with my 2 ½-year-old granddaughter. I can't wait!
Steph and Jeremy have so much working against them in this book as far as them finding a happily ever after together. Can you tell readers a little bit about them and why we should root for them.
As I mentioned earlier, Steph is a very young widow after a tragic accident. She doesn't know how to move on, is sick of people giving her pitying looks or walking on eggshells around her. She feels stuck. And then Jeremy returns to town. He, too, has his worries—will Steph always associate him with the day her husband died? But there's truly a spark of magic when they're alone in a room together…
Is this the last we've seen of Valentine Valley? Of Steph and Jeremy?
I hope not! I love returning to that town, and deciding which characters from past books I can bring into a new plotline.
What's coming up next for you? And where should readers go to find out more about you and your upcoming books?
Readers can always check out my websites, www.EmmaCane.com or www.GayleCallen.com (for historicals), where my books are listed, along with links to my FB pages.
I'm working on historical fiction right now, so it'll be a while before I have a new book available—there's a lot of research involved. I'm deep into the Roaring Twenties—and the American Revolution! How I link those two time periods in one book—well, you'll have to read it to find out. 😊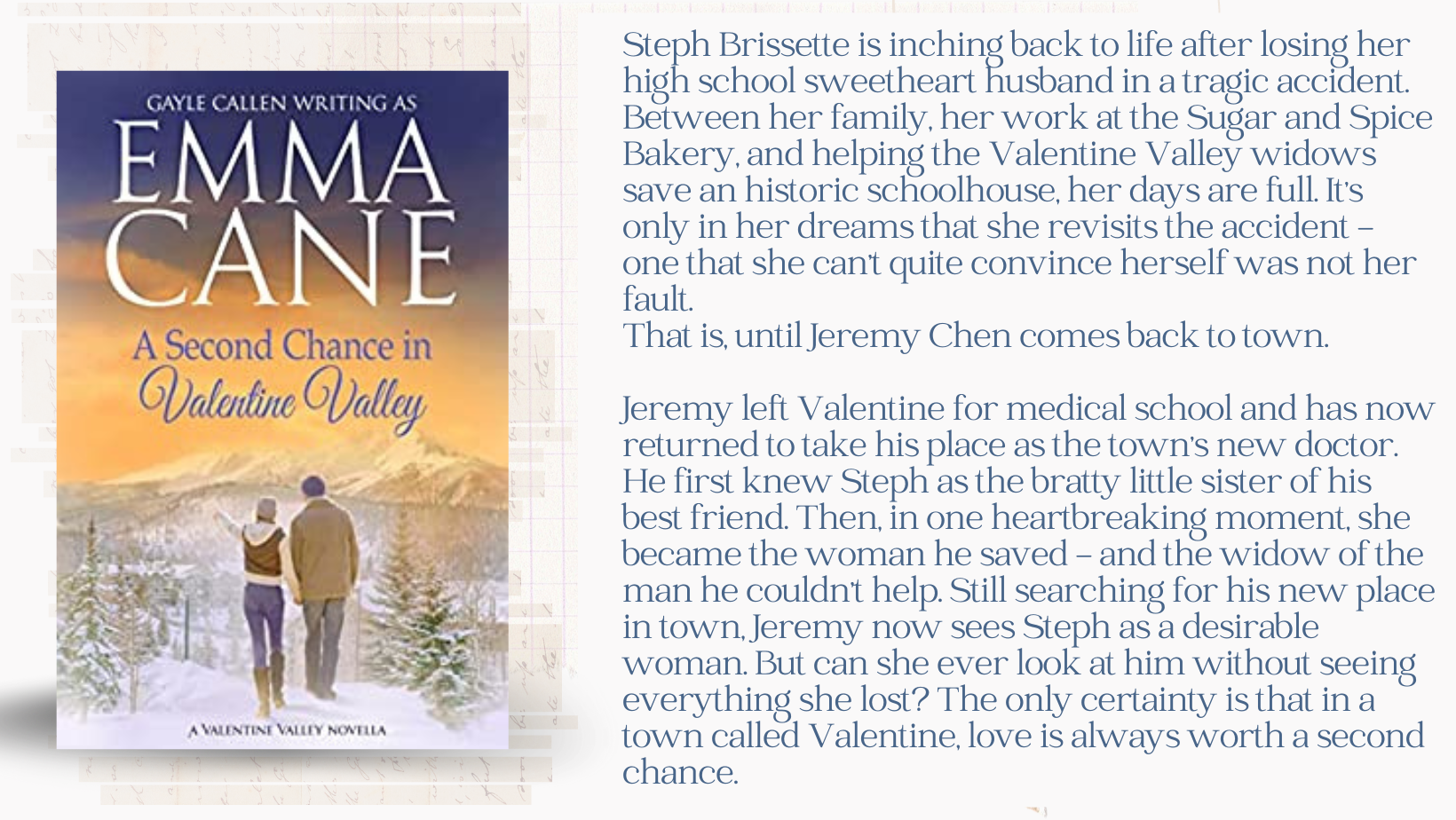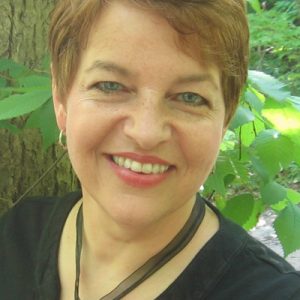 After a detour through fitness instructing and computer programming, Gayle Callen found the life she'd always dreamed of as a writer. This USA Today bestselling author has written more than twenty-five novels and has won the Holt Medallion, the Laurel Wreath Award, the Booksellers' Best Award, and the National Readers' Choice Award. Her books have been translated into eleven different languages.
An avid crafter, singer, and outdoor enthusiast, and the mother of three grown children, Gayle lives in Central New York with her husband, Jim. She also writes contemporary romances as Emma Cane.