Dear Readers,
Remember that chill in the air we were a little too ready for last month? Well, we do believe it is finally here…at least some of the time. That's right; it's officially October and that means Spooky Season is upon us. It's finally socially acceptable to festoon your house with cobwebs and ghosts and skeletons, and then cuddle up in your oversized sweater, light a pie-scented candle and watch Over the Garden Wall, Sleepy Hollow, or whatever else floats your big pumpkin heart.
And while you're at it, it's time to fill up your TBR with books that will incite prickles up and down the nape of your neck and inspire you to try and sleep with one eye open. Or, at the very least, books that have you fanning yourself over an array of rogues with sharp fangs and all the pheromones.
Okay, let's dive right in.
If you're looking for something a little more on the light side of spooky, Willa Blair's Waiting for the Laird might be just what you're looking for. It's a bit of a modern Highland Romance, with an American widow and mother of twins, falling for her architect while she's renovating the manor she owned with her late husband. However, there's also a ghost in the manor that's full of personality, and, as the title hints, is waiting for the Laird to return. So, if you're on the hunt for a cozy ghost story, you've found it.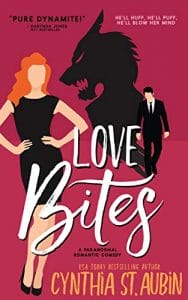 Next up is Love Bites, the first book in Cynthia St. Aubin's series, Tails from the Alpha Art Gallery. This one gets a little more hairy (no, we will not apologize for that pun) as it follows art history grad student Hannah Harvey as she begins her job working for the moody but muscular Mark Abernathy. Spoiler alert: he's a werewolf…and so are most of the gallery's resident artists. Add in cranky James Morrison, the detective Hannah can't help but be drawn to, who knows something's up; visits from artists long thought dead; vampires; and a level of hilarity that only Cynthia St. Aubin can bring to the page, and you've got yourself a new favorite series.
Of course, if you're in the mood for something with a few more fangs in it, let us introduce you to The Rest Falls Away. Colleen Gleason has forged a glittering jewel of a world that combines much of what you love about Regencies, with everything you can't get enough of in vampire hunters. Lady Victoria Gardella is on the cusp of being introduced into London Society, but there's one last thing she must learn…and that's the fact that vampires are very real, they're everywhere, and it's her family's job to slay each and every one of them. Really, what's a girl to do? Also, if you love this one, there's currently NINE more in The Gardella Vampire Hunters series to keep you entertained through Halloween and beyond.
Finally, if you're wanting something that'll really get your heart racing, you absolutely need to check out Sherrilyn Kenyon's collection of Horror Short Stories, Dark Places. The title is not lying either; it will take you down some dark and twisted paths before it's done with you. There're ghosts, demons, and all manner of disturbances to keep you coming back for more. It's a quick read, but you're bound to find yourself thinking about it long after you're done.
Well now, due to our overactive imaginations, we're going to have to let you go for now and make sure all of the lights are on here at headquarters. If you're planning to check out any of these titles, or you already have, leave a comment below to let us know! We love hearing from our readers.
But wait, what's that? Where are the witches? We can't have a Halloween booklist without witches? Don't fret. We'll get to you, our pretties, and your little TBRs, too!
We'll be back soon with some spellbinding tales of romance and witchcraft.