Today we are joined by the incomparable Pamela Morsi, a Romance author who imbues every novel with a heart and soul of its own. We could keep you for ages, waxing on and on about all of the ways in which we adore her, but we know you want to get to her words, so we'll hush up and give her the stage. Keep reading to the end for a special deal that's only lasting until the end of the month!
Destiny turns on a dime.
September is one of my anniversary months. Yes, I am one of those girly women who remembers first meet, first date, first kiss … I met Mr. Morsi on a balmy September evening, many many years ago. It was a blind date. I was recovering from a bad break-up and ruthlessly urging all my friends to fix me up with somebody, anybody. In the days before dating apps and AI compatibility algorithms, one had to rely on friends… and beyond. Mr. Morsi was a co-worker of a friend of a friend. We agreed to meet in a local restaurant. To recognize him, he said that he'd be wearing a pin-striped suit with a carnation in the lapel. You can gauge my level of enthusiasm for this meet-up by the fact that, knowing this, I decided to wear a t-shirt and jeans. Even beyond that, I almost didn't go. I stopped in for a coffee across the street from the restaurant and sat there way too long, trying to talk myself out of just going home.
Ultimately, I did show up and spotted him immediately. He was elegant and urbane. I was a slightly over-fleshy blonde with a hick town accent. But the entire direction of my life changed that night. Everything that came after it—where I lived, the friends I made, the children I had, even the books that I would write— could not have happened if I'd gone home from the coffee shop.
It's been a great life and I have zero regrets, but sometimes I wonder. If I'd skipped that date, what would have happened to me? Would I have married someone else? Lived somewhere else? Would I have ever taken up writing? Would I have managed such a wonderful career? Maybe. In life, you can never really know.
That's one of the things that I love about fiction. You can know a lot more things than in life.
In my novel WHAT WAS AND MIGHT HAVE BEEN, we actually get to see the path not taken. Dawn met Sonny Leland in Knoxville while he was in college. This is her story, or maybe I should make that plural. The book contains parallel stories. One is called Real Life and the other Sonny Days. Real Life is narrated by Sonny and Dawn's 13-year-old daughter, Dakota. Nobody sees the warts on a mom's life as well as a middle-schooler. A family crisis has brought them back to Knoxville to meet grandparents Dakota never knew existed and to reconnect to a past she doesn't know much about.
In contrast, we read in Sonny Days of the life that might have been. The life where they never left Knoxville. Where they worked out their estrangement from Sonny's parents. The life where Sonny was not killed in a work accident, it was the man beside him who died. It all could have happened that way, but it didn't.
If the flutter of a butterfly wing can affect the weather world-wide, then a random tragedy can surely break a family beyond repair. Or can it?
Not everything that happens to us is a choice we made or an outcome we prepared for. Sometimes the sheer uncertainty of life and love and family can swamp us with anxiety. But mathematics suggests that deep within the chaos, patterns exist.
When Mr. Morsi died, he and I had had eighteen years together, two wonderful kids, and innumerable private jokes and funny adventures only shared between us two. I wouldn't have missed that for anything. But beyond grief, life continues. And it's comforting to know that somehow life is more than beginnings and endings. More than clocks or calendars. It's an infinitely changing picture that is beautiful in every variation.
Next time you're hesitating in that coffee shop wearing a t-shirt and jeans, get up and go to the restaurant. Your destiny may be waiting inside.
And check out WHAT WAS AND MIGHT HAVE BEEN. On sale through the month of September for only 99 cents!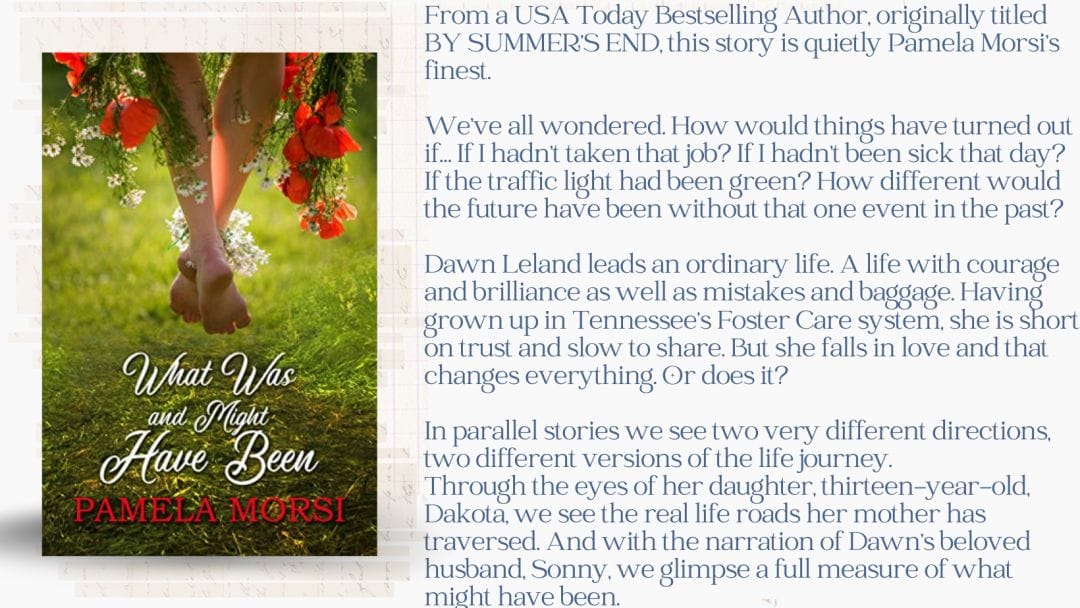 Pamela Morsi is a USA Today, Waldenbooks, and Barnes & Noble bestselling author of romance. She broke into publishing in 1991 with Heaven Sent and has been gracing readers with at least a book a year ever since. Two of her novels, Courting Miss Hattie (1992) and Something Shady (1996), won the Romance Writers of America's RITA Award, the highest honor in romance publishing, and others have been RITA finalists. Her books have won critical praise from her peers, and she continues to be a shining star in the industry.
If you want to find her online, you can find her on Facebook, Twitter, and Instagram!