We're joined today by master Mystery author Liz Lipperman in celebration of her new Cozy Mystery, Enchi-Lotta Bodies! We know you're ready to dive right into these questions, so we won't keep you, but don't forget to check out Liz' bio at the end for even more about her, as well as where to find her. 
What are you an expert at? I know you write mysteries. How did your writing career begin and how did you get to where you are now?
Laughing at the expert thing. Although I am a great cook, a good wife, mother, and Nana, I would hardly call myself an expert, although I do think I know everything. Ask my friends! Laughing again.
Seriously, I do write mysteries but I started out thinking I was a romance writer. Joined RWA and DARA and tried to get published like all the other talented writers there. The problem was that every time I sent out my work, I got the same rejection letter. "This is not a romance. You can't have a romance in Colombia." The manuscript they were referring to was my first try at it, titled Shattered Dreams after a phrase in a poem about love in a Kahil Gibron poetry book. I thought that meant I was writing romance. Again, laughing. What did I know?
At any rate, I got a call from Books Cents Literary Agency. I can't tell you how excited I was when one of the agents called to tell me that she loved SD. Even though the agency was brand new with no sales to speak of, I signed on the dotted line, despite the fact that many of my friends warned me against it. When Kelli sent out the manuscript, she got the identical responses that I had.
A year into it, after many rejections, she took a sabbatical from the agency because her daughter was an Olympic hopeful and she needed to take her to competitions. I got passed down to the owner of the agency, a firecracker named Christine Witthohn. I met her for the first time at the RWA conference in Dallas, and the first thing she said to me—and I quote—"You know you're not a romance writer, right?"
"What?" I argued that I was, that I belonged to both RWA and DARA, that I had read Kahil Gibron.
"Nope," she responded.
"Then what am I?" I asked, almost afraid to hear her answer.
"You're a mystery writer. Now go write me a mystery."
Several months later when I handed her the manuscript that I had titled TALK DEAD TO ME, she immediately sent it to Berkley. TDTM is a paranormal about five sisters and one of them dies and comes back to ask her sisters to find her murderer. (This might be where I mention that Christine, to this day, still calls this my potty-mouth ghost story since the ghost says the most outrageous things. Now might also be a good time to let you know that my grittier mysteries are penned as Lizbeth Lipperman.)
Back to the story. Although the editor rejected it—said she loved the voice but would have to take out all the good stuff to make it a cozy—she asked if I could write a cozy series for her.
"Absolutely," I said.  "What's a cozy?"
I almost passed on that opportunity after I researched cozies and discovered they were usually about gourmet wine and gourmet food. First of all, I am one of nine children as I mentioned above, and growing up, we never ate gourmet food, nor do I eat it now. And wine gives me a headache. I am strictly a margarita girl. Christine, who I firmly believe is the best agent in the business as well as a dear friend, encouraged me to sleep on it and give her my answer in the morning.
That night, I lay awake in bed thinking. What if I made the heroine a sports journalist who ends up in a small town in Texas writing the Personals for the local newspaper after being dumped by her fiancé? What if when the food critic/reporter goes to rehab after a Jet Ski accident, my girl is asked to take over temporarily? And despite the fact that she only eats casseroles, bologna sandwiches, and fast food, she agrees. Then, what if when she tells her wacky group of apartment friends about the job offer, they band together and come up with a plan where one of the residents, a seventies flower child who loves to cook, offers up comfort recipes, and the gang slaps on fancy names? And lastly, what if the column becomes an immediate success when the readers fall for the gourmet farce?
Three chapters and a proposal later, I signed a contract with Berkley for three books. And later, my ghost story, retitled Heard it Through the Grapevine, sold to Midnight Ink in a two-book deal.
And as they say, that's how it all began.
What kind of jobs have you held and how did that influence your style? Describe your current job and what it entails. What influences your stories?
By education, I am a registered nurse and practiced for many years. When my kids were young and my husband was in a job that involved a lot of traveling, I wasn't able to work hospital shifts. So, I improvised and was hired as the director of a popular daycare center where my kids could be with me all day.
I'm not sure any of those helped with my writing, though. When I was running the daycare, I decided to go back to college and get a BSN. (Previously, I had gone to a hospital nursing school, and although I took the same boards and had RN after my name, I wanted more.) When they told me I would have to start over, I changed my mind and got a bachelor's degree in professional arts instead. One of my electives was a creative writing course, and on my final exam, the professor scribbled "You should consider a career in fiction writing."
So, I did.
What influences my stories? I love humor, love being around people who make me laugh. Consequently, I write with humor. Sometimes I get a little risqué. My editor at Berkley tried to tone me down, but in the end, we compromised. She would take one out and I would get to leave one in. Love her for that.
Where do you get your ideas for your stories/books?
I was never a reader as a teenager. For the life of me, I don't know why. Now, when I am on a deadline, I am unable to read as I get too involved in someone else's characters, and I have a hard time getting back into mine. I am truly an undisciplined writer, having to make myself put my butt in the chair and just do it. Don't get me wrong. I love writing— just hate deadlines.
Most of my ideas come from TV. I am a big television fan, especially dramas and mysteries. I find a way to give the ideas a twist and in most of them, throw in some humor.
I also have to give props to a group I am in called Plotting Princesses, although now that we are all published and life happened, we can't get together like we used to. We used to sit around on a Saturday morning with lots of snacks and help each other plot books. The mind bank was unreal with views from many different genre writers. The romance writers wanted sex, the paranormal writers wanted time travel and shift-shapers, and the fantasy writers wanted fairies and magic. My answer to anyone who said their book sagged in the middle was always to kill someone.
I guess I really am a mystery writer.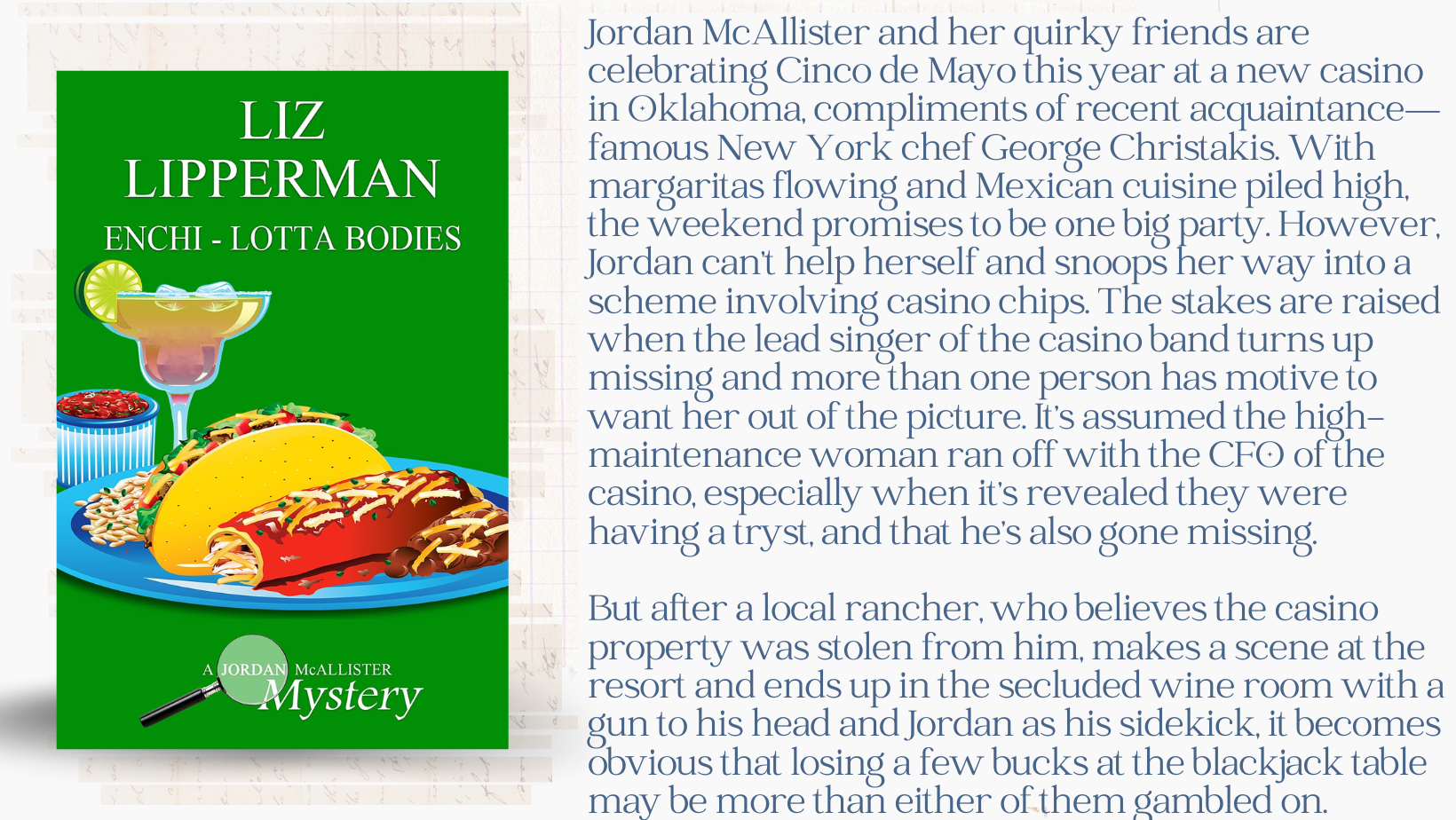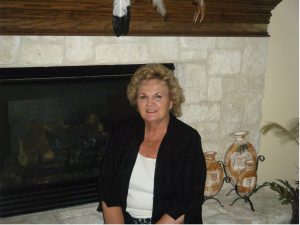 Liz Lipperman started writing many years ago, even before she retired from the medical field. Although she thought she was writing romances, her stories always had pesky villains and mysterious deaths. She finally gave up and decided since she reads mysteries and obviously wrote them, why fight it? Although she signed her first contract to write a cozy mystery series, she likes to call her genre Romantic Mysteries since you will find a heavy dose of boy meets girl and a happily "at least for now" in every story.
Liz was raised in a small town in Ohio, number eight of nine children and graduated from nursing school. After working as a registered nurse for many years and no longer able to ignore the characters talking in her head, she went back to school and got her degree. Then she started her first novel.
Her debut cozy series, published first as The Clueless Cook series and then later as the Jordan McAllister Mysteries, tells the story of a wannabe sports writer who ends up in a small town in Texas as the culinary expert despite the fact that her skills in the kitchen stop at fried bologna sandwiches. Liver Let Die was followed by Beef Stolen Off, Murder for the Halibut, Chicken Caccia-Killer, and Smothered, Covered & Dead, a novella. Book number six in that series, titled Enchi-Lotta Bodies, released yesterday and is available everywhere.
The Garcia Girls Mysteries, a soft-boiled, paranormal mystery series written as Lizbeth Lipperman and earlier titled Dead Sister Talking, debuted later with Heard it Through the Grapevine, Jailhouse Glock, Mission to Kill, and Rock Around the Corpse.
Also writing as Lizbeth Lipperman, she published Mortal Deception and Shattered, both Romantic Mysteries. Debuting in October of last year, her first military romantic thriller, SWEEPERS: Die Once More released, along with a prequel, SWEEPERS: A Kiss to Die For.
You can find Liz Lipperman on her website, or follow her on Facebook.