Today's Writerly Wednesday is brought to you by the mouthpiece of dragonkind herself, Coreene Callahan, and she's headed out into the night to see who comes calling. 
I've never been one for midnight runs, but lately, restlessness has been chasing me. It happens sometimes, so every once in a while, I find my feet hitting the street. Not my favorite nighttime activity, but the walk to the diner isn't the worst one either. Mel's Place. A haven with good coffee and chocolate cake when the writing's not going well, and I can't sleep.
The restlessness is Kruger's fault.
He's being a pain in the butt, doing what he always does, withholding what I need to get rolling. Experience tells me it won't last long. Kruger'll cave and begin to trust me…eventually. But until then, I need a mochaccino and lots of fresh air.
As I turn the corner, the gloom deepens. Streetlights flicker. Night air thins as a heavy chill thickens. A prickling sensation gathers along my spine, delivering a sense of something.
Something I know well.
Shoving my hands into my jacket pockets, I slice between two parked cars and cross the street. There's an alley on my left. A bus stop to my right. Mel's neon sign flashes pink up ahead. I keep my pace steady, boot soles striking concrete, knowing I'm being watched, but not caring. If whoever's out there wants to talk, he'll—
"You should've left my chair out of it."
The deep voice rolls out of the alleyway. Prickles intensify as I stop and gaze into the darkness. Cloaked in shadows, a man looms large, shoulder propped against the brick wall in front of a dumpster, dark gaze shimmering light green.
I tip my chin. "Sloan."
"Scribe," he says in greeting.
"You're out early tonight."
"Gotta bone to pick."
"Yeah?"
"You shouldn't have—"
"People needed to know."
"Not that much."
I sigh. "We've been over this already."
"We need to go over it again."
"Sloan," I murmur. "I'm in the inner circle. You and B put me there. Time to stop being pissed about it."
With a grunt, he pushes away from the wall. The beat of footfalls echo as he walks out of the alley into the light. The urge to retreat claws through me. A natural reaction. Sloan possesses a certain something, and not just because he's nearly seven feet tall. Everything about him points to dangerous—the intensity of his expression, the lethal vibe he throws off like pheromones, the hard glint in his eyes.
He stops five feet away.
I tense, but manage to hold my ground.
He scowls at me. "Some things are private."
"Not that."
His eyes narrow.
I suffer the immediate need to explain. "You needed a push. I gave you one, now you're talking about it, giving it to Theo, healing in ways you've always needed. Your son was beautiful, Sloan. Simeon deserves better than to be kept a secret."
"He was everything."
"Yes."
"Everything."
"I know."
"And now, I have Theodora and Violet." Dipping his head, he leans in, getting closer, the intensity in his gaze making my chest ache.
Fighting to stay even, I nod.
"You gave them to me."
"They were always meant to be yours."
He shakes his head. "You did that."
"Sloan—"
"Thank you, kazmea," he murmurs, using the nickname Bastian gave me.
I take a shaky breath. He's been through so much. Too much. Has suffered more loss than any Dragonkind warrior should be made to bear, so…
"No need to thank me," I say, swallowing past the lump in my throat. "The kind of guy you are, you deserve the best. All the—"
"We done with the love-in yet?" Deep voice. Eastern European accent. Irreverent attitude out in full force.
"Frigging hell," Sloan grumbles, glaring at someone behind me. "You mind, brother?"
"Nope." Footfalls beat across pavement.
I glance over my shoulder. "Hey, Ven. How's it going?"
Shoulder-length hair in a messy man-bun, Venom steps onto the curb. Big boots planted beside the bus stop, he meets my gaze with his ruby red one. "I knocked up Evie."
My lips curve. "So, you're feeling good."
He grins. "Yeah."
"Congrats, man," I say, pleased for him. "I know how big that is for you."
Venom tips his chin. "Wick says hey."
I snort. "No, he doesn't. Wick hasn't talked to me in months."
"He's too busy banging J.J." A wicked gleam in his eyes, Venom shrugs. "No room for anything else but killing rogues."
Sloan chuckles.
Expression moving from teasing to alert, he glances at Sloan. "Time to fly out, man."
"Yup," Sloan says, treating me to a chin lift. "Later."
"Later," I return, and then they're gone.
One moment there, suddenly absent, leaving me alone on the street a block from Mel's, wondering when Sloan and the other Nightfury warriors will visit me next.
If you want to get to know Sloan a little better, don't miss out on Fury of Aggression! And if you want to meet the rest of his kind, click here.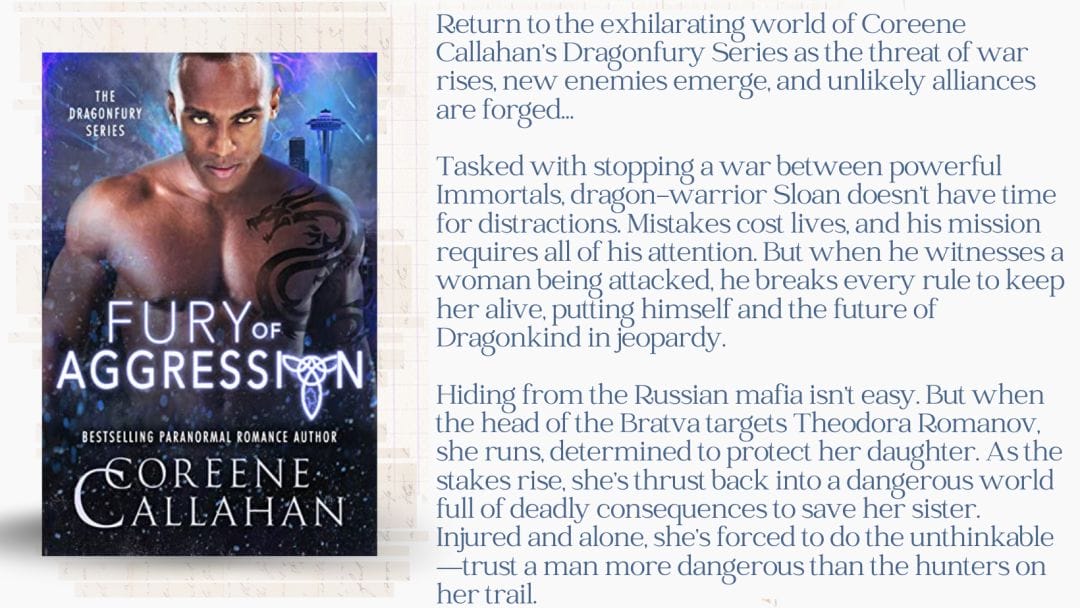 Coreene Callahan is the bestselling author of the Dragonfury Novels and Circle of Seven Series, in which she combines her love of romance and adventure with her passion for history. After graduating with honors in psychology and taking a detour to work in interior design, Coreene finally returned to her first love: writing. Her debut novel, Fury of Fire was a finalist in the New Jersey Romance Writers Golden Leaf Contest in two categories: Best First Book and Best Paranormal. She lives in Canada with her family, a spirited Anatolian Shepard, and her wild imaginary world.
Find her on her website, Amazon, Facebook, Instagram, and BookBub. Go ahead and sign up for her newsletter while you're at it, too!