We're so excited to be here with Elizabeth Rose, celebrating her 100th book release! That's no small feat and we're blessed to get the chance to be a part of it. She'll also be having a virtual party on Facebook tomorrow (8/18) with contests, giveaways, videos, and a ton of drop-ins by her fellow best-selling authors (including some familiar faces from OHB)! Make sure to head over there and add it to your calendar. 🥳
Elizabeth, we're so honored you'd take time out of your schedule to answer a few questions. It's a big week for you this week. Yesterday's release of Bewitched marks your 100th book! How does that feel?
It is great being here, and thank you for this interview. Having 100 books feels CRAZY. It is so surreal that I'm not even sure how it happened. It just kind of snuck up on me in a way, I guess. It also makes me feel exhausted. LOTS of hours of hard work went into making this happen, and typing my fingers off, too.
How do you keep inspiration alive after so many?
I will admit that sometimes the well seems to be dry. Then, I see or hear something that makes me start thinking. What if . . . Actually, everything and every person is inspiration for another story.
What inspired this series? This book?
I love anything paranormal. I also love anything medieval. I thought it would be fun to create a fantasy series that takes place in a world that I created. I do have a map in the book of Mura, the land of the Portals of Destiny Series that I created. I have an even more detailed map in color on my website. Click HERE to see it.
As for what inspired the book, Bewitched? My heroine, Medea is the daughter of an evil witch and a good warlock. She appears in the last three books of my Tangled Tales Series. Well, my readers liked her a lot and were asking when Medea would get her chance at a happily-ever-after. So this book is Medea's story. I wrote it at the request of my readers.
Do you have a favorite book that you've written? A favorite character? Or is it too hard to choose?
Asking me that is like asking me to choose a favorite child, and I have 100 book children! (Smile) I will say one of my all-time favorite characters who keeps showing up in many of my medieval English/Scottish stories is Storm MacKeefe. He's just arrogant enough but still loveable like a teddy bear at the same time. Readers first see him in Lady Renegade. And then in many series following, too.
As for favorite books, let me break it down this way: Favorite medieval series are Legendary Bastards of the Crown, Seasons of Fortitude and Secrets of the Heart, since they all go together. My favorite paranormal series are: Portals of Destiny, Elemental Magick and Tangled Tales. My favorite contemporary series is the Bad Boys of Sweetwater: Tarnished Saints Series which is inspired by things/people in my own life.
What drew you to fantasy? Is there a particular story that made you think, "I want to do that"?
It's not really a book but a movie that did it. I was, and still am, in love with the movie Ladyhawke which is a perfect mix of fantasy and medieval. I NEVER get tired of watching it. It is also the perfect love story that makes me cry at the end every time. I also loved the TV series Legendary Journeys of Hercules and Xena: Warrior Princess which inspired my Greek Myth Series, one of my oldest series.
Along the same lines, portals to other worlds are a big part of this series. If you could take a portal to any fictional world, where would you go?
Well, I wouldn't say fictional exactly. I would actually use the portal to time travel (which isn't in this series yet, but might be in later books.) I would go to ancient Egypt, medieval times of course, and Atlantis and Mu.
This series deals a lot with light and dark magic, as well as love vs. darkness and destruction. What really captivates you about these dichotomies?
I'd say this story, especially with my heroine, Medea, shows that there is dark and light, good and bad in everyone. Without one, you couldn't judge the other. That said, everything can be looked at in different ways. For example, fire can be a good thing to warm your bones or cook your food. But fire can also be bad, burning you or destroying everything you own. Same goes for water. It is just what we choose to focus on that will fill our lives with one or the other.
Your character Medea de Bar rides a dragon in this, or at least attempts to. Have you ever wished you could?
Oh, so you're thinking that I haven't? Hee hee. I think it would be awesome and terrifying at the same time. I will say the closest I've come to riding a dragon is at Disney's Avatar Flight of Passage. It is a 3D simulated ride on a native mountain Banshee. It was AMAZING. If you haven't tried it, please do. It felt so real, so fun, so freeing.
What can fans look forward to in the future from you?
With me, you never know what to expect next I guess. Since I do write medieval, fantasy, paranormal, small town contemporary, western, and even a little young adult, there are many ways I can turn. But I will say, watch for more Portals of Destiny books as well as more paranormal/fantasy stories because that is where my interests are at the moment.
Where can people find you online? 
Readers can find me here:
Elizabeth Rose's Readers' Group
Thank you so much for answering all of our questions. Do you have any last comments you'd like to leave for your readers?
Yes, thank you. I just want to say I have been writing since high school, and writing romance since 1996. My first book was published by a traditional publishing house in 2000. I did take off quite a few years to go back to the outside working world, but returned with a vengeance when I was fired. That is when I started self-publishing my books, and I now write for several publishers as well – Oliver Heber Books and Dragonblade. It's been a long road and a fantastic journey that will continue far into the future. I'd like to thank all my readers and fellow authors for the support given that has been so uplifting, keeping me on the path. Stay healthy, safe, strong, and share the love everyone!
-Elizabeth Rose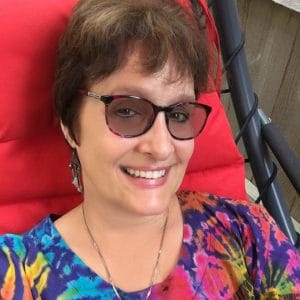 Elizabeth Rose is an Amazon All-Star, and bestselling, award-winning author of 100 books and counting! Her first book was published back in 2000, but she has been writing stories ever since high school.
She is the author of fantasy/paranormal, medieval, small town contemporary, and western romance. You'll find sexy, alpha heroes and strong, independent heroines in her books. Sometimes her heroines can even swing a sword.
Living in the suburbs of Chicago with her husband, Elizabeth has two grown sons and one granddog – so far. A lover of nature, she can be found in the summer swinging in her 'writing hammock' in her secret garden, creating her next novel.