Today's author needs nary an introduction, especially if you've been with us from the beginning. The founder of OHB, Tanya Anne Crosby, is dropping in this week to tell us a little about what captivated her about the time and tale of Gwendolyn of Cornwall.
Dearest reader,
If you've come this far with me, you know this book is a book of my heart. It was perhaps the story I was born to write, and I've loved every moment of my time in this world.
When I began its telling, I was certain I could write it in three parts, but it soon became clear that's not so. Now, I think it will be told in four books, although I intend to be true to this story and take my time with it, rolling out as rich a tapestry as I can. What I can promise you is that the end of this tale will be worth the wait, and the journey will be thrilling.
By now you also know that Gwendolyn's story is not entirely fiction. As I've already said, hers is the first account I ever read, historically speaking, of a strong woman, who kicked a cheating husband to the curb. She then raised an army to defeat him, taking the crown and throne. Technically, she is Briton's first Queen Regnant, but there wasn't a united Briton at the time of her reign.
I do make every attempt to stick to the historical record, but I've also incorporated many of the Celtic legends, including the advent and eventual defeat of the Tuatha Dé Danann. If you've read The Irish Chronicles or Mabinogion, you'll find many, many familiar characters, only re-imagined. Despite that it's based on a true story, this is not meant to be a history lesson, but I hope you'll enjoy the many hours of research I've invested to enrich the setting, and to include the politics of the age, as well as some of the finer details (even if some of it is a bit fantastical).
For example, the water screw is very much a product of the age, and it dates back to ancient times. It is believed to have been the source of water for the Hanging Gardens of Babylon. However, the "Stone Isle" is in fact the historical setting of Tintagel (or initially Tre war Venydh, pronounced as Trevena) and there is no water screw there, nor is there any proof that any sophisticated fortress ever existed there. There is, however, evidence of an ancient settlement that may have been the seat for the ancient kings of Dumnonia.
This site was also believed to be a thriving port, and pieces of imported Mediterranean pottery were discovered there, including table- and glassware. Merchants may have come from all over, looking to trade for copper and tin. I found it utterly fascinating to consider that Cornwall and Wales may have had far, far deeper roots, and a richer culture than I ever suspected, and perhaps more so than London itself. Like the princess in this story, its history defies everything I ever came to believe about its place in Britain's history.
But all this said, let me tell you what it is about this story—aside from the rich historical setting, and the mountain of possibilities after discovering Cornwall's history—that drew me.
Very simply, this is a story we women have lived for millennia. We know Gwendolyn's tale because we are still striving to overcome the pitfalls of life in a man's world. Her struggles are our struggles, and in the end, she prevailed, and this is not merely symbolic to me, but it gives me a wealth of hope that, in the end, we, too, will overcome. We are all queens in our own rights—all worth far more than even we, ourselves, are willing to accept. Gwendolyn's journey, from a child—sometimes precocious and innocent—to a mature and accomplished woman is intrinsically familiar. She is me, and she is you. I intend to give her one-helluva journey and I hope you'll join me in cheering for her and then sit back with a smile at the end, because no matter what hardships she may endure, she'll win in the end.
Here's to us. To me. To you.
Happy reading!
If you haven't read Gwendolyn's story up until now, make sure to grab yourself a copy of the first book, The Cornish Princess. Or, if you're ready for it, get your copy of The Queen's Huntsman and discover how everything above is woven into this new installment.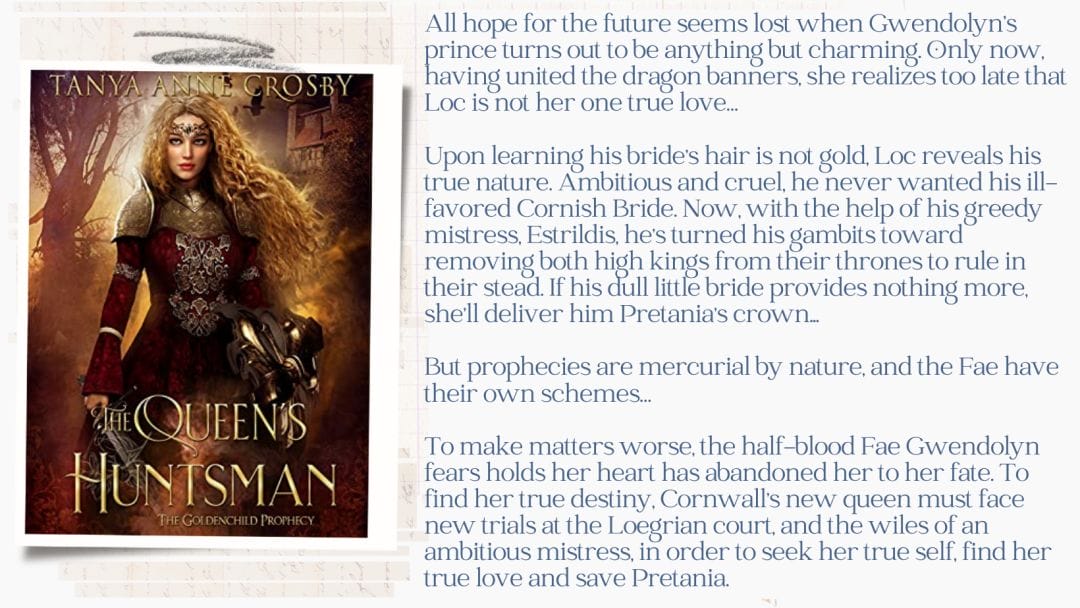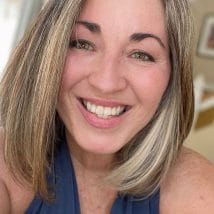 Tanya Anne Crosby is the New York Times and USA Today bestselling author of more than thirty novels. She has been featured in magazines, such as People, Romantic Times and Publisher's Weekly, and her books have been translated into eight languages. Her first novel was published in 1992 by Avon Books, where Tanya was hailed as "one of Avon's fastest rising stars." Her fourth book was chosen to launch the company's Avon Romantic Treasure imprint. She's an award-winning author, journalist, and editor, and her novels have garnered reader praise and glowing critical reviews.
You can find her on Facebook, Twitter, Instagram, and, of course, at her own website.  Sign up for her newsletter here.