**Update** If you look down in the comments, Kari has a surprise giveaway! If you leave a comment today (July 13th) , answering her question, you'll be entered to win a signed copy of Frozen Waters!
 If you've been following us for any length of time, you've likely noticed that Kari Lee Harmon, who also writes under the name Kari Lee Townsend, is rarely one to spend too much time away from her keyboard. On top of Romantic Suspense series like this one set in Coldwater Cove, she also writes Cozy Mysteries with colorful casts of characters, Romances, and heartfelt women's fiction. If you'd like to find out more about those, or about Kari herself, keep reading until the end and Kari will direct you where to go.
Let's dive into this Q&A!
In Dark Seas we really got to know the characters of Stacy Buchanan and Trent West, what made you decide that book two should switch focus to these two new characters, Emma Ross and Gunner Nash? What drew you to creating them in particular?
Hi there. Thanks for having me on the blog today. Great question. In my cozy mystery series, the main characters of my amateur sleuth and detective always stay the same. We get to see them grow and change over the course of the series as they solve mysteries together. But for this suspense series, I wanted the town to stay the same but the main characters to be new with each book. A new romance and new suspenseful situation that puts the characters in jeopardy.
And what inspired you to build Coldwater Cove where you did?
All of my books take place in the northeast. I love all four seasons. For this suspense series, I was really drawn to Maine. The coastline is rugged and majestic, with extreme weather. I placed Coldwater Cove in the northern most part of Maine so it's close to the Canadian border with Nova Scotia across the way. That lends itself to all sorts of opportunities for crime and suspense.
Extreme weather plays such a big part in Frozen Waters. Is that something you have a personal connection to or was it something you dove into specifically for this book? Have you always been itching to write about a storm chaser?
I like writing a book during each of the four seasons in the northeast. The town is the same, but you get to see all the different sides of its character. It keeps the series from becoming boring or stale. As far as extreme weather goes, I've always been fascinated with storms. When creating my characters, I'm always looking for different types of careers they might have and location plays a part in that. When researching the harsh winters Maine experiences, I thought it would be fun to write about a storm chaser.
After all of your research, if you were stuck in Emma's position but your partner was the main character of the last book you read, what are your chances of surviving a nor'easter?
Well, let's see. I just finished a book in Tonya Kappes Camper & Criminals cozy mystery series. Mae West is the main character. She's fun and spunky and would be good for uptight Emma. Mae knows all about criminals and she does live in a camper, but she's from Kentucky. That's a far cry from northern Maine. However, with Emma's knowledge of storms and Mae being used to roughing it, I think they would do okay. Not to mention, they could work together to catch the bad guys for sure.
Without giving too much away, what was your favorite part of writing this novel?
I love developing a romance and growing my characters, but I have to say coming up with twists and turns for the plot that you won't see coming is the most fun for me. I always try hard to outdo myself from the last book in the series and make sure the reader can't guess the ending. I also loved writing scenes in the middle of all the crazy weather.
Did you have any favorite characters to write, besides your two leads?
Emma's Dream Team, Harvey and JoJo. Their characters were so much fun, it was really hard to keep them from stealing the show. No matter what I write, I always have some sort of comic relief going on. I love mystery, romance, and humor and always have a little bit of each in every genre I write.
What can readers expect for the future of Coldwater Cove? Will we see more Emma and Gunner?
Yes. All of the characters I write, I am going to either mention what they're up to or have them pop in for a visit. It's so much fun to catch up with characters we love and see what happened to them after their book ended. I have two more books planned so far, Dangerous Thaw and Deadly Frost, with brand new leads I think you'll love. Thanks again for having me on today. It's been a blast. To find out more about me and all of my books, check out my website www.karileetownsend.com and sign up for my newsletter.
You heard her guys! Go check out that website, sign up for her newsletter, and also look for her on Instagram, on Twitter here and here, on Facebook here and here, and yes, even on TikTok!
And of course, you can't forget to grab yourself a copy of Frozen Waters, if you haven't already, and find out exactly what happens to Emma and Gunner!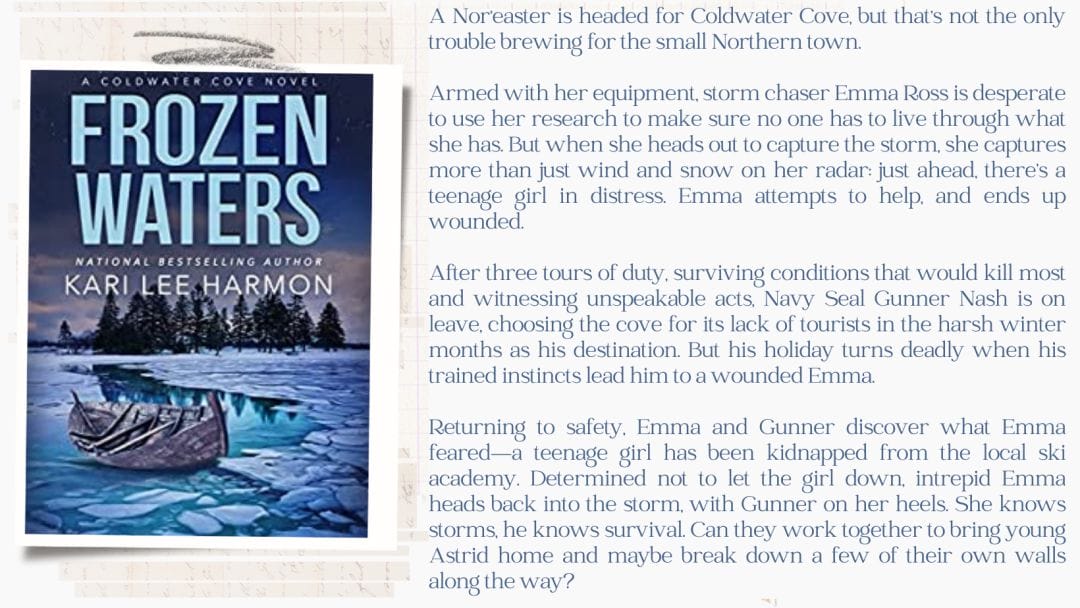 Kari Lee Townsend is a National Bestselling Author of mysteries & a tween superhero series. She also writes romance and women's fiction as Kari Lee Harmon. With a background in English education, she's now a full-time writer, wife to her own superhero, mom of three sons, one darling diva, one daughter-in-law & two lovable fur babies. These days you'll find her walking her dogs or hard at work on her next story, living a blessed life.